Application season is just around the corner and you have just begun gathering all your requirements for medical school. You wanted to be a doctor and are ecstatic to embark on your medical journey.
Aside from your usual credentials and your stunning CV, it is of utmost importance that you give value and ample time to writing your medical application personal statement. Not only is this an opportunity to impress the admitting panel, it is also your chance to let your application shine among the others.
Use the Language You Normally Use
The committee would want to know they are reading the work of a young potential medical student. Not a computer. Avoid superfluous language and stick to your usual speaking tone. While it is strongly discouraged to use slang or street language, excessive use of the thesaurus to add unnecessary depth to your writing is certainly not the way to do it as well.
Commitment Is a Must
Each year, medical school can only get tougher. And the panel would want to make sure as much as they can that they take in students who have the heart and the will to push through when the going gets tough. Nobody wants to risk a slot for a potential quitter. In your medical application personal statement, try to relate personal experiences that show your perseverance and focus on doing the things that your chosen career would need you to. Show how committed you are to your craft and you are sure to get the panel's approval.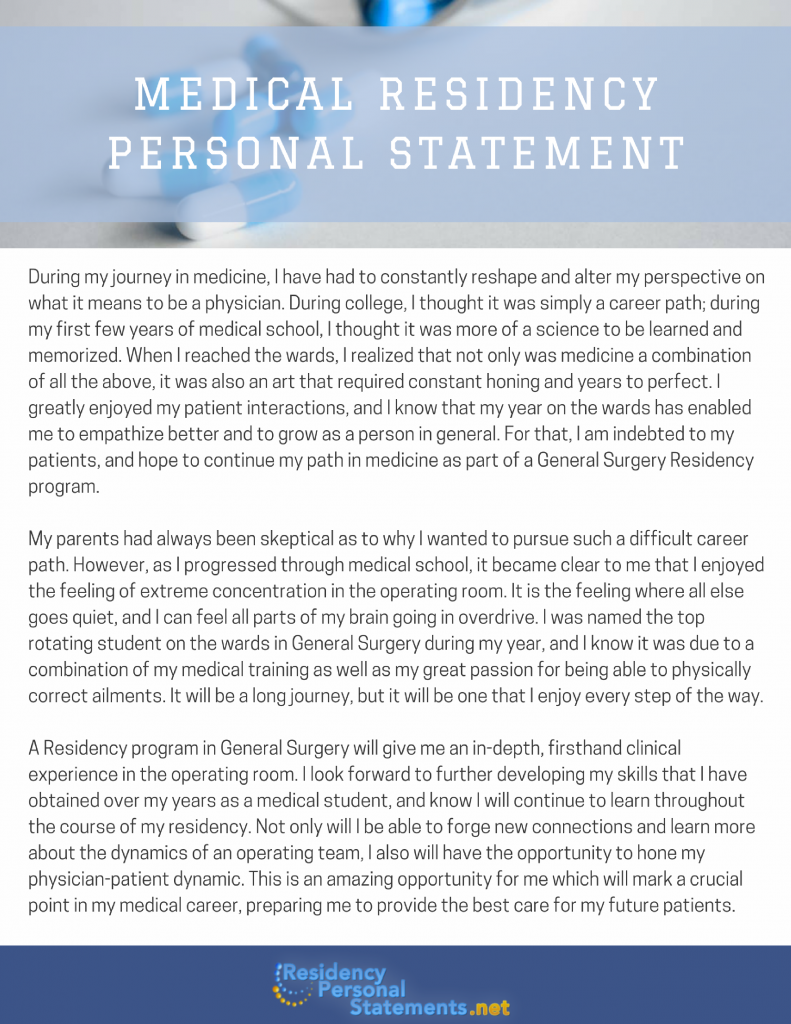 Highlight Your Non-Academic Skills
Although some medical schools go for academic achievements, still others prefer to look into a candidate's skills which can be related to the medical practice. Let your CV and your credentials take care of the awards and recognition you may have gotten prior to applying for doctor of medicine. Your medical application personal statement is called such for a reason, it is personal. It talks about you, your personality and your interests. A grave mistake in writing your statement is basically converting your CV into an essay. Do not fall into that trap.
Write the First Paragraph Last
It is really very hard to start. Let alone start writing a med personal statement. Experts say it is best to start writing the second paragraph and go on writing the rest from there. Then take the time to figure out what to write for your opening paragraph. It should catch the reader's attention enough to make them interested in the rest of what you have to say. Don't use clichés, like overused quotes, common sayings or the ever proverbial "My father used to say…" Your application for medical school would stop dead in its tracks once you have fallen to this familiar theme. Strive to be unique and engaging.
Ask for Help
You cannot perfect your personal statement on your own. Ask for assistance. You don't have to seek someone on the same boat to give comments about your writing. A medical application personal statement is an essay of who you are, why you chose medical school and why the panel should accept you. It is always helpful to check with someone you know and trust if you do sound convincing and if your statement sounds sincere.
Most importantly, whatever you write and however you wish to write it, maintain honesty and integrity. Because after all, a doctor should, first and foremost, have these two qualities. Good luck!