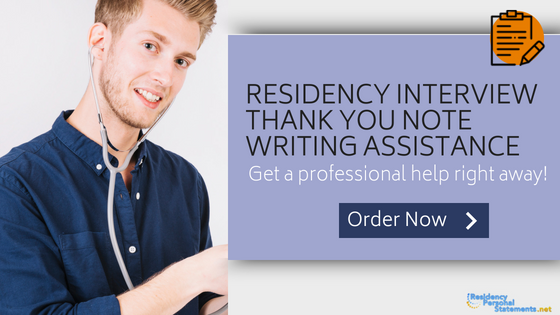 After being interviewed for a residency program, you might start thinking about writing a residency interview thank-you letter. Residency post-interview thank-you notes are usually made to show appreciation for the time given to you when applying for a residency program.
Keep in mind that the work of an interviewer isn't easy and can be tedious in the long run. Thanking them for the opportunity given to you can make them happy, especially if it is done correctly.
6 Steps in Writing a Residency Interview Thank-You Letter
The purpose of a residency thank-you letter is to let the evaluators know that you appreciate the time they spend to talk to you. If they have offered you some career advice, in your thank-you letter for residency interview, it is also worth mentioning that you are grateful for it. Nonetheless, more importantly, it is meant to let them know that you are looking forward to being a part of their program. Here are some practical tips on writing a thank-you letter after residency interview.
Decide on the right time to send a letter. The most convenient and ideal time to send your thank-you letter is 48 hours after the residency interview. It is because your presence is still fresh in the memory of the evaluators. A couple of days after, they might see other applicants.
Determine the recipient of the letter. Get the complete name, position title, and office address of the evaluator who has interviewed you. Make sure that it all is correct.
Choose a format. Use a simple format. Do not use fancy fonts and a format that may confuse the reader.
Use only relevant info. Write it straight to the point. Include only the necessary and pertinent content.
Review your letter. Read and review your letter after writing. It is to check it for any spelling, punctuation, or grammar mistakes.
Send it by email or mail. A thank-you email residency interview is the best way to send your letter. It is fast, and you can always get a response soon. Some people want to make it more personal and send their thank-you residency interview letter by mail.
Don't Make These Mistakes When Sending a Thank-You Note after the Residency Interview
Don't say you're sending your thank-you note for the residency interview because you feel obliged. Make it a genuine gesture to thank the evaluators. It is also essential to note that this is more than just a thank-you letter. It also shows your personal attitude, which is a good indication that you can be a great addition to the program.
On the other hand, your thank-you letter should not come with a thank-you gift. If you are not qualified for the program, a thank-you gift won't change that fact.
It is always significant to think like the evaluator. Thinking about what they want to read in a thank-you letter will help you make your writing better. That's what our professionals excel at. We know what evaluators want, and we know how to give it to them.
Get Expert Help with a Residency Interview Thank-You Note
If you are having a hard time writing a thank-you letter, it's a good idea to look at a residency interview thank-you note sample. You can easily get samples online. However, if you are still unsure of what to write in your letter, ask for expert help. The good news is that there is no shortage of writing companies who can assist you, but if you want the best thank-you note, our service is worth using.
What Should a Residency Thank-You Note Contain?
You can add snippets of your interview to help jog the interviewer's memory. You don't really have to write a flowery letter. Usually, thank-you notes are concise yet sweet enough to leave an impression on the reader.
In your thank-you note, you can also reiterate your interest in the GPR or any other program that you are applying for.


The Best Residency Interview Thank-You Notes
If writing a residency interview thank-you letter is an uneasy task for you, you can hire our experts to help you out. Our expert residency personal statement service is not that difficult to use.
All you have to do is to choose the type of letter you would like us to compose, provide us with the information we need, make your payment, and that's it. We'll do the rest ourselves!