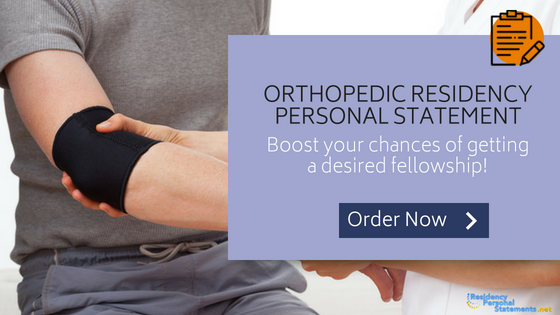 In order to make it as a successful orthopedic surgeon, you must complete the last and one of the most important parts of your academic journey is applying to an orthopedic residency program personal statement. However these orthopedic residency programs and top surgical critical care fellowship programs are very competitive and difficult to get into, so students need to make sure that they submit an application that will stand out in the minds of the orthopedic residency admissions boards.
The top orthopedic residency programs in the country expect that students not only have a stellar application but that they create a professional sounding and engaging orthopedic residency program personal statement.
Where Should You Apply with Your Orthopedic Personal Statement?
As with most specialties you will want to do your residency with the best programs so that you are exposed to training that will be the best available. It will also ensure that it boosts your future career. The following are a few of the best programs that you could apply to:
Harvard Combined Orthopedic Residency Program: this program allows you to study across four major hospitals providing you with a wealth of experience in your field.
Hospital for Special Surgery: this program offers a wealth of experience after which you will be expected to present a paper of your own.
University of Pittsburgh: from joint replacement to treating sports injuries you will gain a huge amount of experience within this program.
Rush University Chicago: from research to hands-on training this fully certified program will give your career the boost that you are looking for.
UCLA: You will be able to spend up to five years training within their state of the art research and treatment facilities across several different sites.
NYU School of Medicine: this 5 year program encompasses all areas of orthopedic surgery and also offers a limited number of research places each year to follow on from the initial 5 years.
Mayo Clinic Rochester: this program is proud of its 5 year program with over 98% of their residents passing the American Board of Orthopedic Surgery exams.
How Should You Structure Your Orthopedic Residency Personal Statement
The panel reviewing your application will be expecting to learn just who you are through your orthopedic personal statement rather than just looking at your results. At this stage in your career, you will have already proved that you have what it takes to do the job but they will want to know if you are going to fit into their program well. The following are the areas that you need to consider within your personal statement:
Why do you want to follow a career in orthopedics? Explain how you decided to follow this specific specialty for your career and what steps you have already taken in this direction.
What will make you a good orthopedic resident? Show them what qualities and skills you have to offer that will make you a great resident.
Explain what you expect from your residency: give them an understanding of your own particular interests and what you hope to gain experience within.
What are your career ambitions: where are you headed with your personal career after you complete your residency?
Of course, you want your personal statement to be unique and to stand out from what others have written. So you will want to avoid clichés and common themes as this comment from Maryland Medical School highlights:
The 3 most common themes in personal statements are 1, you had an injury growing up and your orthopedist inspired you, 2, you played sports growing up, and 3, you loved anatomy. Try to think of something besides these three themes.
How We Help with Orthopedic Residency Personal Statements
An orthopedic surgeon residency program application needs to have a personal statement that reflects who the applicant is as a person and convinces the admissions counselors that the student is the best choice possible for a spot in the program. The orthopedic residency personal statement needs to be enjoyable to read, engaging, informative and free of errors. However, doing all of these things in one personal statement can be challenging for any student. This is why we offer professional residency personal statement writing services specifically for students looking to apply to orthopedic surgery residency programs.
Orthopedic Residency Personal Statement Writing Services
When you are looking for help with an orthopedic residency personal statement, you want to make sure that the person you are turning to for help is not only an experienced residency personal statements writer but understands the expectations of one of these statements. This is why we have created a team of writers that aren't only experienced professionals, but who understand that orthopedic residency program inside and out.
They know exactly what admissions boards are looking for and can create orthopedic personal statements for any student that are targeted towards their specific talents and accomplishments. By turning to our professional writers you can get a quality, professionally-written statement that will help you stand out and get noticed by the admissions counselors.


Our Orthopedic Residency Personal Statement Writing Services
When you look at our services for help you can rest assured that the service you get will be top-of-the-line, and we aren't only talking about our orthopedic residency personal statement writing services. We also have a team of customer service representatives here to help answer your questions and to make sure that you are completely satisfied with your essay. We know how important this personal statement is to you, but we also know that as a student budget is important as well.
Your orthopedic residency personal statement must make you stand out if you are to be selected to work with our specialized and effective services today.