With a great dentist CV sample, you get effective ideas on how you begin writing your curriculum vitae. The sample is your help to know what information you need to include. It contains fundamental concepts in helping you to create a professional and complete CV or dental resume. Your CV must present details in a precise and clear way and as much as possible, you need to personalize it to be original and unique.
Must-Have Sections in a Dentist CV
Your CV is a written representation of your personal and professional career. In applying for a job in dentistry, you need to present a compelling, honest, and organized resume to your employer. It should be a list of complete information about your profession and education. The following are among the basic sections in a dentist's CV.
Name and contact information
This appears in the uppermost part of the CV. Use your given name and official contact information. Do not use a pen name or an alias. Write down your latest contact information, which includes telephone number and email address.
Summary of qualifications
This is the time to ditch the 'Objectives' part because everyone knows that your objective is to get a job. Instead, write a short summary of qualifications. This is a brief paragraph form about your skills and things that make you the best candidate for the job.
In this section, write your educational background. Start with your bachelor's degree or the most current education. Include other trainings or certification you acquired. Listing your honors and awards will also be helpful.
This is the most important section of a dentist CV. List your professional experience in chronological order. Include only the experience related to the position you are applying for.
This section contains the professionals who can vouch for you. Write their names, position title and contact information. Make sure that they are aware about being your reference and inform them that the employer might contact them anytime.
You can also check for some samples for ideas on what information to include on your own resume. These samples are written by our professional resume writers who specialize in writing CVs, especially for dentists.
Dental Resume Samples Online
Being a dentist is concern in offering dental care through restorative and preventive treatment for mouth and teeth. The specific tasks of dentist include straightening teeth, examining x-rays, extracting teeth, repairing teeth, filling cavities and more. To create a magnificent CV from it, you need to know some dental CV samples especially when you don't know what you need to do.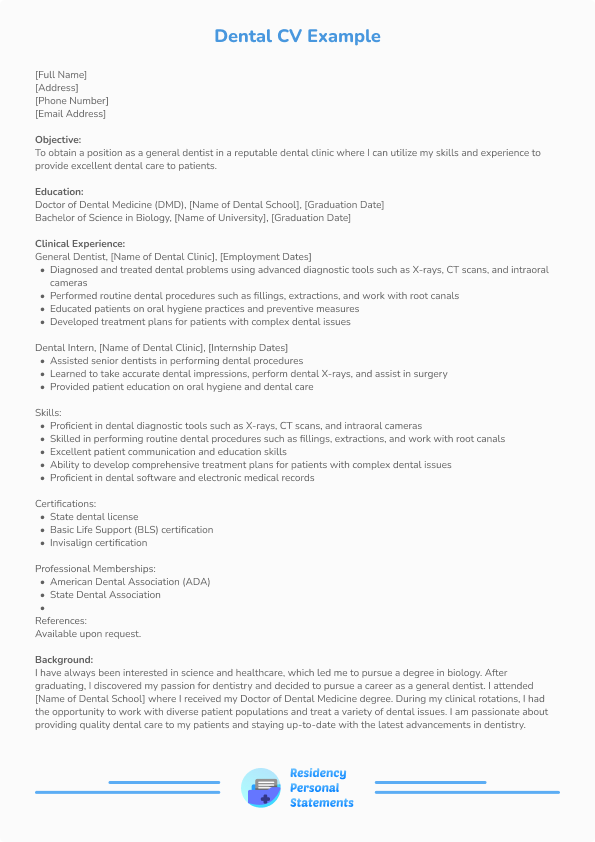 NameAddress
Contact number
Email address
Job objective (example): To gain position in dentistry field in contributing your best when it comes to handling dental related problems in great health organization.
Core competencies: Comprehensive knowledge in dental treatment process and in depth knowledge about techniques related to health procedures and practices. Strong knowledge about current principles, procedures and methods in treating and diagnosing dental problems will help you a lot.
Highlights of Qualifications:
Skilled in formulating plan for the treatment of mouth tissues and patient's teeth
Experience in general clinical practice
Ability in performing dentistry to patients
Ability to instruct and advise patients about preventive dental care
Ability to write prescriptions for medications and antibiotics
Familiarity with local ordinances and federal laws
Proficient with x-rays, dental instruments and diagnostic equipment
Excellent communication skills both in verbal and written
Responsibilities:
Supervised dental assistant daily activities
Present full range of dental care services
Monitor quality patient care through medical record, x-ray usage, laboratory and review system
Attend mandated departmental and hospital meetings
Adherence to department policy about timely patient and accurate charting
Provide preventive dental services
Examine patients in analyzing condition
Skills:
Dental radiology
Emergencies
Clinical practices
Microbiology
Dental materials
Education:
This is only one of the samples you can check out and there are still numerous examples on the web.
Feel free to check out on it to meet your needs and to know what you will do but make sure that you provide necessary information that an employer needs to know.
Order now