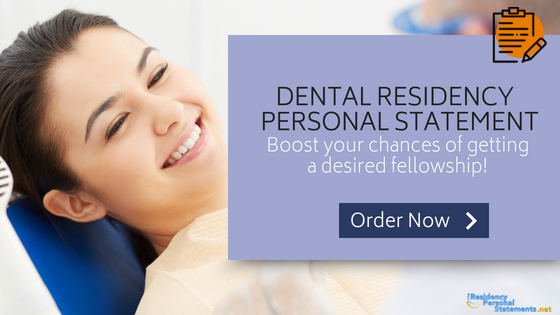 In order to get accepted into a dental residency program, students need to have a strong academic record and proven proficiency in their field of study. However, there are many students who have the grades and experience necessary to qualify for dental residency programs. Those who get accepted need to show the dental school residency admissions board that they are an ideal candidate for one of these positions. This means that successful applicants will submit a dental residency application that stands out from the pile and gets the attention of these admission boards.
One of the best ways for students to make their application stand out is to write a truly stellar dental residency personal statement. This is precisely why we offer professional residency personal statement writing services for all dental students looking to get accepted into a residency program.
Where to Apply for a Dental Residency Program
You want to ensure that you get the best possible training as well as something that you can show off on your resume. So it is always worth choosing the higher ranked programs for your choices. The following are some of the best choices for applying to with your dental residency personal statement:
How Should Your Dental Residency Personal Statement Be Structured?
It is important that you ensure that you cover all that the admissions committee will expect from your personal statement for dental residency. Firstly you should always carefully review their expectations to make sure that you fully understand what they are looking for. Your residency dental personal statement or endodontics residency personal statement will usually follow the following structure:
Why you entering a dental residency program: give clear reasons for developing your interest in dentistry and what steps you have taken in this area.
Why you will make an excellent dentist: explain the specific skills and other qualities that you have that are going to help you become an outstanding dentist.
What do you expect from your residency: explain the areas that you are most interested in from their residency program as well as showing what you have to offer.
What are your future plans: show how you expect your career to develop in the short and long term.
The Importance of Dental Residency Personal Statements
Whether you are applying to a general residency program or a pediatric dental residency program, you will find that you face a great deal of competition in order to get accepted. If you are able to create an engaging personal statement that will grab the attention of an admissions board and really display who you are as a person and a student, then you have a much higher chance of getting your entire admissions package noticed. A quality personal statement will show your personality, your writing ability and your dedication to the field of dentistry.
Mistakes to Avoid When Writing Your Personal Statement for Dentistry
Your residency personal statement has to make a perfect first impression if you are to have any chance of being accepted for an interview. With the committee reviewing so many statements any mistakes that you make in your writing will stand out like a sore thumb. The following are some of the common mistakes that you will need to avoid in your writing:
Using clichés: you must ensure that your writing is completely unique to you and that also means avoiding the use of any clichés in your statement.
Use of slang and acronyms: you will want the reader to be impressed with your writing and that means using clear formal English.
Including information from elsewhere in your application: you need to make every word count for your application so don't cover anything you already have.
Failing to proofread: you must ensure that you will eliminate any and all mistakes in your writing; you don't want your application to be overlooked.
Dental Residency Personal Statement Writing Services
We know that applying to dental residency schools is challenging and that in order to succeed in your endeavors you need a quality dental residency personal statement. This is especially true when you are applying to one of the specialty programs such as pediatric dental residency programs.
This is why we have created a team of experienced residency personal statement writers who not only have outstanding writing proficiency but who know what it takes to have a truly outstanding dental residency personal statement. Our writers can create personal statements for you or they can help you improve upon an existing statement.

Why Use Our Dental Residency Personal Statement Writing Services
Students who come to us with help writing their physical medicine and rehabilitation residency personal statement know to expect professionalism in all of our services. We not only have professional writers on our team but we have a team of professionals who understand the unique needs of applying to a dental residency program. We also know that the residency personal statement is one of the few things that can truly help students make their application stand out.
We Offer Guaranteed Support for Your Residency Dental Personal Statement
Our specialists work directly with each of our clients so that you can be sure that your statement will always reflect you while being tailored carefully for your application. All of our support is covered by our full satisfaction money back guarantee as well as all of the following:
Guaranteed delivery inside of your deadline;
Guaranteed original statements with a free plagiarism report;
Guaranteed error-free with our effective proofreading on each service;
Guaranteed confidential support through our affordable services.
Make your dental residency personal statement shine with the help and support of our highly qualified and very experienced experts.