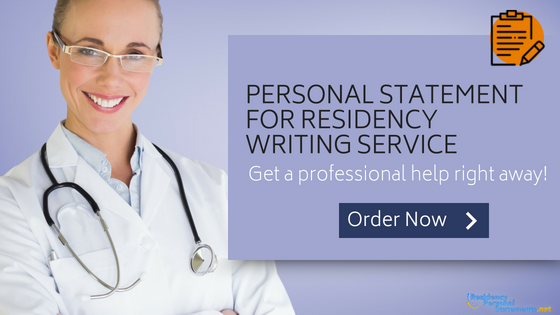 FAQ on How to Write a Residency Personal Statement

Why do I need a personal statement?
A residency personal statement is an essential part of the application to any residency training program! Due to the limited number of available programs and the increasing number of medical school graduates, you need a competitive edge. With the federal cap on residency programs, many graduates experience difficulties realizing their goals. A convincing professional residency personal statement can make a difference! We will highlight all your strengths, skills, goals, experiences, and values to demonstrate that you are an ideal candidate who wants to start training immediately.

Why do I need residency personal statement help from writers?
A residency personal statement must contain all the relevant personal and educational background, and it must be an engaging, sincere, and captivating narrative that is no more than a few pages long or even shorter. Many people have a hard time writing a personal statement because this is something no one ever teaches us either in school or university. It also involves objectively, persuasively, and indirectly stating that you are the best candidate! Our team of residency personal statement writers will create a document that grabs the attention of the reader from the very first sentence.

Can I keep track of the writing process?
Yes, of course! We want you to be completely satisfied with our work and insist that you contact your experienced residency personal statement writer to make any necessary changes. Our teams will keep you informed at every stage of the writing process to ensure maximum quality and customization.

Why choose your service?
We are a small team of dedicated professionals that aim to provide affordable service of the best quality. We compose impeccable residency personal statements for all customers!

Does my information remain confidential?
Absolutely! We do not share your information with anyone. Any personal information you provide is used only to process your order and write your residency personal statement. Please refer to our privacy policy for more details.

Who will write my personal statement?
Our professional writing staff consists of expert writers who specialize in writing residency personal statements. All applicants must send us samples of their work along with info on their work experience and specialization. We accept only the best writers to provide you with the best pieces of writing!

When will my custom personal statement be ready?
Whether you need a personal statement for the residency or a letter of intent for the residency, you can specify the deadline for our writers when placing an order. We have a 911 option, which allows you to select a 24-hour deadline: it is our fastest service. We will send you the completed statement by email. You can specify the format as well.

How do I place an order?
Click the "Order Now" button and fill in a short online order form. You can upload any necessary documents, and a writer will contact you within 24 hours to begin the writing process. Before ordering, we can give you a quote based on your needs and expectations. You pay at the time when you place your order. We offer a secure payment form, and you may pay for the needed service with a credit card.

Can I speak to my writer? Do I get a money-back guarantee?
Absolutely! You talk directly to your professional writer by phone, email, or online chat. You can choose what option works best for you! Our job is finished when you are completely satisfied with the provided personal statement for the residency. If for some reason we do not meet your expectations, we will provide a full refund.
Don't know how to write a residency personal statement that will attract the attention of the committee? Our service is here to help you, just give us a call!