Proficiency
in ERAS® Application
Residency Personal Statement Writing & Editing Services
We know exactly what the admission committee is looking for in applicants. So we can craft a brilliant residency personal statement that stands you out from the crowd.
The Reason Why Our Residency Admission Assistance Is Outstanding
Original & Personalized Personal Statement
We create unique admission documents from A to Z. We make use of a special questionnaire so that your order can be highly customized to your particular case.
All Medical Specialties Covered
Regardless of what type of medical admission doc you require, you will find a suitable professional with us! Members of our crew are competent in all medical fields.
Adherence to ERAS® Requirements
All the residency personal statements are crafted by our medical experts with strict conformity to the ERAS® application system requirements.
Flawless Usage of Medical Terminology
Considering our experts' know-how and the number of the orders they fulfilled within this specialization, apt usage of medical terminology is beyond dispute.
Medical Degree Holders
Each medical specialist in our company is a practiced author and holds the appropriate qualification needed for the creation of a marvelous application doc.
Fast Turnaround & Timely Delivery
Our accomplished residency authors are eager to work under tight deadlines. Believe it or not, about 35% of the orders are completed and sent to customers before the expected deadline!
Our Services
We guarantee high-quality writing & editing assistance with all types of residency admission documents!
Final Proofreading & Formatting
Direct Chat with the Writers
14 Days of Free Revisions
Money-Back Guarantee
Our Expertise
Our medical admission experts provide top-notch help no matter where you're applying for!
Medical School
Observership
Residency
Fellowship
WE TAILOR RESIDENCY PERSONAL STATEMENTS TO ALL MEDICAL SPECIALTIES:
Internal Medicine
Anesthesiology
Psychiatry
Gynaecology
Family Medicine
Orthopedics
Neurology
Neurology
Pediatrics
Surgery
Ophthalmology
Oncology
Dentistry
Pathology
Dermatology
Urology
Radiology
Psychiatry
Cardiology
Sports Medicine
Get to Know Our Praiseworthy Medical Specialists
Count on our capable, adroit, and exceedingly erudite medical experts who are acquainted with any medical field. Ease your mind since every single prospective author is obliged to take a tough test before getting employed!
Degree Holders
Medicine Whizzes in Each Specialty
Users of the Approach Aimed at a Client's Success
Ingenious in the Writing Process
Experienced in Submitting Winning Essays
Internal Medicine
"I am always in touch with the support team to get feedback from my clients. And knowing that they were satisfied with my assistance and were successfully accepted warms my heart."
Not a single imperfection will be left in your document if Lyndsey take it over. Professional writing & editing are her specializations, and perfectionism is her main trait. So be confident in the flawless results – she will not agree to anything less.
Radiology
"I feel true satisfaction and big joy assisting everyone in finding the right words to tell their unique story that sounds in their voice"
Patrick's prominent trait is the ability to create masterpieces from a vast range of random facts. He likes to communicate with customers and delve into their unique stories. Many clients often feel like Patrick has known them for years.
Orthopedics
"I've always been good at writing any from the application documents package, and I'm happy to be here, where my talent has matured into a real opportunity to assist others."
Do you want to be sure that everything will go right and that even the most minor instructions will be considered? Get Gina as an assistant and succeed with your admission docs.
Dentistry
"My experience in crafting residency admission documents can serve you well."
You'll be surprised by the variety of programs Carlos has dealt with. He's a passionate expert whose smooth transitions and ability to structure large amounts of information give him the highest praise.
Pathology
"I can assist with all types of admission documents you may require when applying for residency. And your positive feedback about my work is what I love specifically."
His expertise and writing talent are remarkable. Having Joe as your assistant is always a winning option.
Surgery
"Feeling your voice in application documents is what makes them unique and remembered by the committee. And I'm good in such transmissions!"
Angela is not only our leading expert but a respectable member of the admission committee. So she knows she tells – the results of her work are always incredible.
Pediatrics
"It doesn't matter to me what residency program you've chosen. With my assistance, you'll be accepted everywhere!"
Jessica is the top pro when it comes to complicated admission cases. She successfully copes with in-demanded program enrollment and helps her clients beat even the highest competition. Having such an ally means victory only, so trust her with the most challenging tasks, without a doubt!
Family Medicine
"Students' support with quality admission documents creation has been my vocation over the past 7 years."
However, his skill is confirmed not only by years of experience but by hundreds of well-written documents that have provided many applicants with achieving their desired goals. Scrupulousness and punctuality are what we infinitely respect Rafael for.
Anesthesiology
"I love to pay attention to details and particular facts, covering which allow me to create non-trivial & eye-catching documents."
Remarkably, it was Conrad who assisted us in compiling the Questionnaires provided for document personalization. He knows about the perfect structure and the information the committee wants.
Psychiatry
"Every residency application document is a little story about a special person. And I find it exciting to create new ones, covering new talents and traits." 
Although Susan's skills and experience as an author are exceptional, she creates real magic when writing and editing documents. Even the most commonplace paper can be refreshed and turned into a showpiece by her!
Hire a writer
Feedback
Customer: #204123

It was a very pleasant experience to work with you and get your support. Terrell was very helpful. Communication between us was efficacious, and all the data I needed was received on time. Hope to be in contact with you for future projects as well!
Customer: #267280

Awesome! I just finished reading the personal statement, and I really like it. Thank you for doing this for me. I will come back to you if I have any questions or inputs. God bless you!
Customer: #235021

Thank you so much! I am so happy. It's really impressive. Well done!
Customer: #256309

I have reviewed the document. I am happy with the revised document and like the logical flow of ideas. You have nicely summarized my thoughts and made the necessary amendments here and there. I have made small changes towards the end, and I think the doc is ready for submission. Thank you, Alex!
Customer: #270866

Thank you so much for your work. I really appreciate it. I am more than satisfied with the personal statements. I think I do not need a third one. With these two that I already have, I can put together the application. I bought an extra just because I was so worried and anxious about this process that I wanted to have a variety to choose from, but the material you prepare for me is more than enough. This application is so stressful! But thank you again for being fast and helpful. I will contact the customer service to see how to proceed. Thanks again!
Customer: #221692

Thank you very much for writing a strong and concise personal statement for me. I have gone through the paper, and everything seems to be perfect. I am grateful to you for your help and support.
Customer: #226901

I am very, very, very happy with the edited CV. Thank you!
Customer: #278567

The experience was great! It's my second time here and both times were efficient, quick yet high quality.
How we work
Step 1
Step 2
Step 3
Step 4
Complete the Form
The stage under consideration is a breeze. Fill in the fields to get us informed of your instructions and click on the payment button! To reach the maximum personalization of your residency personal statement, our authors require specific data about your application, including your attainments, the preferred program, and the selection board's formatting criteria.
We'd truly like you to remember about our Questionnaire. Download this file, complete it, and add it to the order form. Note that any info customers share stays concealed from third parties. Besides, our company protects our clients' individual records, keeping any data under strict privacy policy.
Download a questionnaire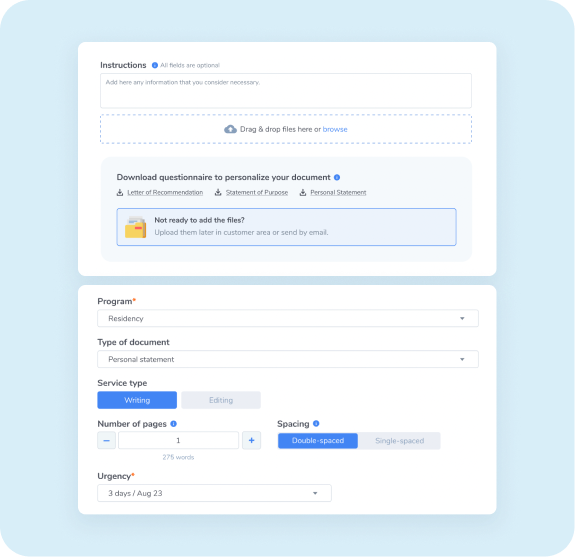 We'd truly like you to remember about our Questionnaire. Download this file, complete it, and add it to the order form. Note that any info customers share stays concealed from third parties. Besides, our company protects our clients' individual records, keeping any data under strict privacy policy.
Download a questionnaire
Pay for the Assistance
When your payment transaction is over, our medical expert will commence the process of the order execution. You have zero points to worry about since every single payment is protected. Furthermore, you will be sent a letter of payment confirmation.
Payment methods:

Secure: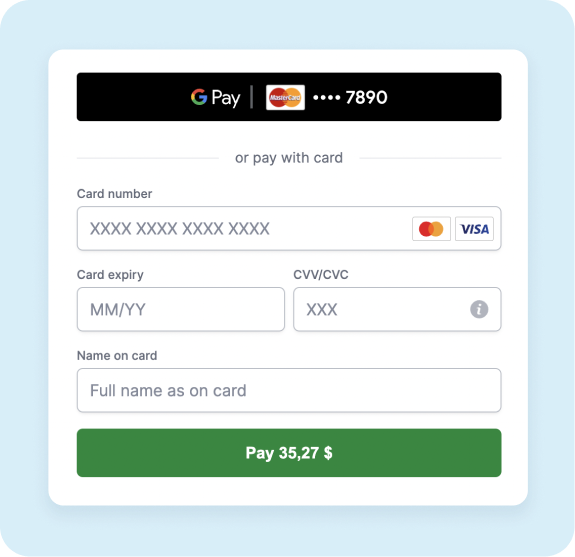 Customer Area
When our company is notified of your successful payment, we will immediately provide you with details for you to enter your Customer Area. You can always edit your password for even better website experience. This area is particularly designed for your one-on-one contact with the medical expert & support agent. Plus, transferring the final doc to your computer, requests for corrections, and ordering other residency application docs are possible with this feature!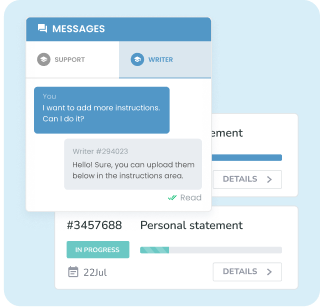 Keep Abreast of All Events
Access all the notifications via your email box. For an extra level of order monitoring, we offer SMS updates! The moment your order is completed, our Quality Department will launch the checking process to verify whether the order complies with each instruction. Once done, you will be allowed to save your file via the Customer Area. The final copy of your doc will be sent to you promptly or in advance! If any corrections are needed, contact us for 14 days.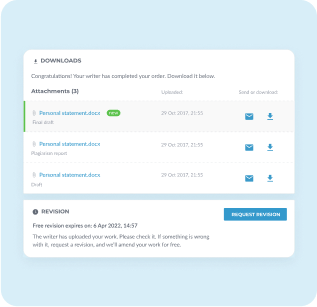 Control the Order Execution
Email & SMS Updates
Select the most convenient way to supervise the process of order fulfillment!
Customer Area
Reach out to your medical specialist, get the final doc, and register new orders with no bother.
Client Support
Don't second-guess but turn to our support crew if you have questions regarding your order!
Residency personal statement help
Professionals from our residency personal statement writing service believe a personal statement is a decision-maker when it comes to selecting people for a medical residency program or fellowship. Creating this kind of document can be a stern challenge. If you would like to be a radiologist, pathologist, cardiologist, or family doctor, a decent personal statement is a pivotal part of your application.
No matter if you are looking for an advantage over other applicants or some idea of how to start composing your document, writing a personal statement is uneasy. You have only one opportunity to impress the committee as favorably as possible! Our expert writers are able to craft a fabulous residency personal statement that will make you appear different from the rest of the candidates. Bear in mind ordering a residency application personal statement from our devoted team of specialists so as not to miss a chance to invest in your future career!
How important your residency statements are
A residency statement is just one piece of your application. However, they are often the most important. Many of the other applicants will have the same qualifications and experience as yours. Thus, your personal statement is the only method that you can use to make your application stand out from the crowd. Nevertheless, composing a personal statement for the residency that is going to be effective is not simple at all.
Many applicants can struggle for a long while with their writing and still submit a statement that they are unhappy with. People are merely not sure about what they should include in their statements and how to craft something that will truly get them noticed. That's why so many applicants turn to professional residency personal statement help.
What should your ERAS personal statement include?
Every personal statement must be as unique as possible. There are also some things that you must always ensure that you cover to show the committee that you are the right person for the program. These will usually include all of the following:
Why do you have a strong interest in the field in which you are applying? What has made you interested, and how have you developed that interest?
What skills and other attributes do you have that will ensure that you will be a success in this field?
What are your future goals for your career in this field? Why have you chosen this specific residency program and not another?
Residency personal statements by expert writers and proofreaders
Getting selected for a post-graduate residency program is a hard task. The number of residency programs that are federally funded is capped. It is not likely to change so far, though the number of first-year medical students and, therefore, that of residency application personal statements is increasing, and medical organizations require the government to solve this. The situation can become different, but not soon. Talking of US medical graduates, they typically finish their studies with $200K in student loan debt on average.
It may be considerably hard for a medical student to compose a professional medical residency personal statement not only due to the formatting but the time and effort that are needed. Students also lack time to create a powerful statement because their schedules are busy.
Moreover, students are not taught how to recommend themselves. Similar to a professional resume, a personal statement needs a mix of creativity, writing skills, and knowledge of what the reader anticipates. That's why an ideal surgical residency personal statement must also contain other things. That's where we can help you succeed. We realize the significance of a high-quality residency personal statement and truly have the desire to assist you!
What ERAS application documents can we help with?
Our experts have vast experience in creating residency application documents, so they will surely do what you need. It can include all of the following:
PERSONAL STATEMENT. Writing a personal statement for the residency is complicated, but our specialists will make it easy for you. They work directly with you to make sure that your writing will fully reflect just what the committee wants to see. Writing is unique and corresponds with the standards to get you noticed.
CV OR RESUME. Just as with a job, you will need to ensure that your resume perfectly reflects just what they are seeking. Our specialists know how to present info in a way that will be obvious to the reader.
LETTER OF INTENT. Our specialists can make sure that your reasons for application are clear and compelling and make your letter different from many others that will be read. We work with you to ensure that you will get the best results, and you will always receive a letter that is written perfectly.
LETTER OF RECOMMENDATION. A good reference can go a long way to helping the applicant win a place. However, it is far from easy to write. It is not just a matter of what you say. It is also a matter of what you fail to say. Our specialists will work with you to ensure that you will submit an LoR that will be highly effective.
Our residency personal statements are all about quality
Our expert writers are able to deliver a fabulous personal statement. They all undergo rigorous writing and editing training. Consequently, they know how to describe your practical experience, unprecedented insight, creativity, and research skills, which admission review committees are searching for. Our expert personal statement editors constantly improve a multitude of personal statements, and these belong to various fields of study.
Every personal statement is out of the ordinary. Each is composed to reflect the client's personality and skills. Our personal statement writing service can make you closer to achieving your objectives! Professional emergency, cardiology, and psychiatry residency personal statements written by us have already benefited a great many applicants for different programs.
Entrust our personal statement writers
The writers strive to get you selected for the program you have chosen! We know what to include and how to include it in a document for sure! If you turn to us, you will receive a personal statement of the highest quality possible! The percentage of those who, thanks to us, got into the programs they were applying for is close to 100%!
Our expert personal statement writers are knowledgeable about how to use the info you provide and emphasize your best attributes! We can compose a residency personal statement for almost any specialty! Thanks to us, you have the opportunity to save your energy, time, and money. Thanks to us, you have the opportunity to do things connected with self-development rather than struggle with a personal statement.
Our residency personal statement services
We can help you leave an exceptional impression on the admission committee with a brilliant residency personal statement! Here is what we can offer:
We compose impeccable, concise, and powerful personal statements for the residency!
We concentrate on your best features and describe them as masterfully as possible!
We have awesome customer support that can help you at all stages of creating your document!
We ensure that your residency personal statement emphasizes you as an individual!
We can proofread and edit a residency personal statement that you already have!
When working on your residency personal statement, our writers make it top-notch! We aim at meeting your expectations and even more. If you already have a residency personal statement but are not sure about its quality, turn to our expert personal statement editing service, and our editors will perfect it! We are very proud of the fact that clients of ours got residency positions, thanks to our effort.
Choose our residency personal statement services
We hire only the best writers: they are specialists in composing personal statements for every medical specialty.
Our rates are very affordable in comparison with those of other writing services.
We are knowledgeable about how the admission committee selects candidates.
We understand what admission committees want applicants to possess.
You can communicate with your writer directly during the process of creating your document.
We make revisions of your residency personal statement until you are fully content with our work.
We never duplicate documents: residency personal statements are all personalized and written from scratch.
We offer a full money-back guarantee.
Our personal statement writing service is committed to providing you with a superb residency personal statement that will make you get selected for the program you have opted for.
How can you get help from our residency personal statement editing services?
If you need assistance with writing or editing your personal statement for the residency, we will simplify the process. We offer you an easy way to complete your application up to standard.
Exclusive pre-season pricing
till 7 June
only
Pre-season pricing
till 7 June
only
Pre-season pricing
Get A Discount