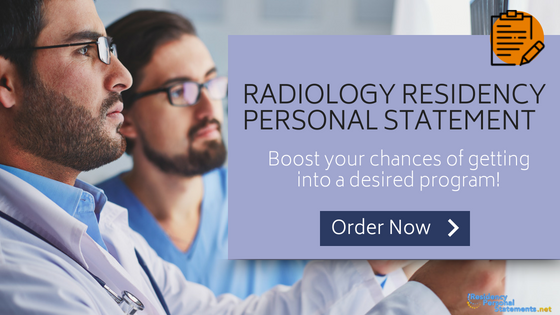 The educational path that students need to take in order to become a radiologist is very challenging and one of the most important parts of this journey is getting accepted into a radiology residency program. The right radiology residency program can make all of the difference in a person's success during their medical career.
However, in order to get into the best radiology residency programs, students must be able to submit a program application that will help them stand out and get noticed by admissions boards. One of the best ways for students to do this is by creating an engaging and professional radiology residency personal statement. This is why we offer professional residency personal statement writing service for those interested in dental residency programs.

Importance of Radiology Residency Personal Statements
When it comes to getting accepted into the top radiology residency programs in the country, the right personal statement is key. Whether you are applying to a general radiology program or a more specific program like an interventional radiology residency program, the right personal statement is necessary.
When you have the right radiology personal statement or interventional radiology fellowship personal statement you can get the attention of any radiology residency board, and give the admissions counselors reason to take a longer look at your application. With the right statement, you can put yourself in the best position possible to get accepted into your residency programs of choice, including difficult interventional radiology residency programs.
5 Helpful Tips for Writing a Radiology Residency Personal Statement
Your personal statement is not a mere essay where you talk about yourself. It is more than that. It reflects your passion in the field of radiology, your future plans, and what makes you the best candidate for the program. The following are some helpful tips to guide you in writing your own radiology residency personal statement:
Start with something interesting. The first part of your statement should be something attention-grabbing. You can start with a short story about how you find yourself interested in the program. From there, develop your content and keep the reader on the hook until the end of the letter.
Be upfront. The evaluator of the residency program does not have all day to read your long letter. Be direct in your content. Explain any problems or issues that may cause them to decline your application. They will find out sooner or later, so better tell it now. This is also a good avenue to explain yourself without being judged.
Explain your purpose. We all know that your purpose is to get into the residency program but explain more than that. Discuss what drives you more to be a radiologist, how important it is to you and things that you plan to do if ever you are selected. This makes the evaluator think that you are a person with a plan and a passion for the study.
Sum it all up. At the end of the letter, wrap it up by tying facts and purpose altogether. Explain what you can bring to the table if ever chosen. Do not forget to thank the evaluator at the end of your letter.
Read and review your personal statement. Review your statement for any factual, spelling, punctuation, or grammatical error. Make sure that the format is neat and clean.
Writing correct and effective personal statement will help with the success of your radiology application. It allows you to display your experience, skills, and interest in the field while convincing the evaluator to choose you as one of their residents.
Radiology Residency Personal Statement Writing Services
Your radiology residency personal statement can be your key to getting into your ideal radiology residency program. Wheather you need a well-written radiology or preliminary residency personal statement, it should be: free of mistakes and typos, demonstrate you as an individual and engage the reader to be eager to collaborate with you. Luckily, we have a team of professional writers who can comply with all of these criteria and deliver the high-quality paper for your application. If you need a personal statement written from scratch one of our writers can help you, they can also help you edit a current personal statement so it has just what it needs to stand out in a pile of applications.
Essentials of Any Order
Experts with relevant experience in your narrow research field
Optional phone/e-mail contact with the specialist who is a charge of your paper
Beforehand paper reviews to meet your deadlines
Personal essay tailored for the specific program you want to apply for
Highest goals set & actual results achieved

Our Radiology Residency Personal Statement Writing Services
We have many students that turn to us time and time again for assistance in all of their academic endeavors. This is because we are dedicated to working with you to make sure you get the help you need. We don't just offer you pre-written radiology residency personal statements you can buy and use, we will have a professional writer that is an expert in creating the best personal statement for residency, crafted just for you to fit your own experiences and personality.
Make sure you are suitable for the best radiology residency programs by submitting a fairly good personal statement! Our professional writers are ready to provide you with assistance anytime!