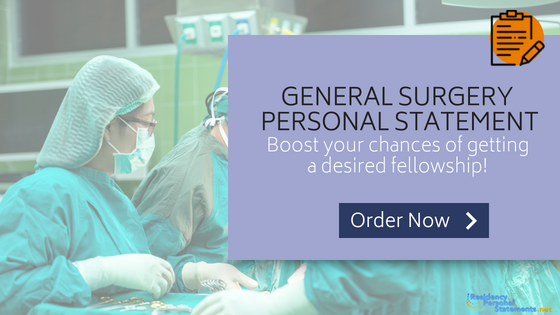 Getting accepted into general surgery residency programs is one of the most difficult parts of becoming a surgeon for many students. The admissions boards for general surgery residency programs expect that their applicants demonstrate not only a proficiency for their medical studies, but demonstrate that they are a well rounded individual. The best way to do this is by writing an outstanding personal statement along with your general surgery residency application.
The personal statement that you must submit with your medical residency CV should show the admissions boards that you are deserving of a spot in their program and help you stand out from the rest of the applicants. This is important as many of the admissions counselors use the personal statement to make their final decision on many students.
General Surgery Residency Personal Statements
When creating a general surgery residency personal statement or surgical critical care fellowship personal statement you need to make sure that the statement shows that you are not only a well-rounded individual but that you would be ideal for that individual program. For a quality personal statement you need to know about the program you are applying to and then make an engaging personal statement that will get the attention of the admissions boards and prove that you're a fit for their program. If the admissions counselors are intrigued by your personal statement, they will likely take additional time to consider your application into their program.
Where to Apply for a General Surgery Residency
If you are going to invest time in writing an excellent general surgery residency personal statement then it is best to apply to a top ranked program. This will ensure that you get quality training that will be respected by all. The following are some of the top programs that you can apply to with your academic general surgery personal statement:
John Hopkins University: a top ranked institution in many areas this program will help you to be trained as one of the future leaders in surgery.
Massachusetts General Hospital: within your time as a resident you are going to be able to perform in excess of a thousand surgeries in many different areas.
Duke University School of Medicine: they offer a wide range of different specialties in which you can work should you wish to concentrate in a specific area.
University of California san Francisco: this large program takes on almost a hundred residents every year ensuring that you will get a well rounded education.
University of Pennsylvania: offers an excellent residency program that will ensure you get all of the experience you require over 7 years.
How Are You Going to Structure Your General Surgery Residency Personal Statement?
Writing a personal statement general surgery is not something that you can just rush into. Firstly you need to do your homework and carefully review what the program that you are applying to really expects from a resident. This needs to be worked carefully into what you will write. Typically you will structure your statement as detailed here:
Why you are following general surgery: provide clear reasons for your interest in this field as well as an idea of what you have already done to further your education.
What it is that will make you a good surgeon: explain the specific skills and other personal qualities you have that will make you a great general surgeon.
What do you want from your residency: explain what you hope to learn through the residency as well as what you hope to contribute yourself.
Give an outline of your career ambitions: say where you hope to be in the short and long term within your career as a surgeon.
What Mistakes Should Be Avoided When Writing Your Personal Statement General Surgery
You want to impress and that will mean avoiding the many pitfalls that there are when writing an effective personal statement at this level. The following are some of the issues that you must avoid in your writing:
Using clichés: always ensure that your writing is totally unique and free from meaningless clichés.
Language that is inappropriate: do not include any form of slang, overly fancy words or acronyms.
Do not be overly wordy: be concise and to the point throughout.
Don't repeat anything that is elsewhere in your application such as rotations from your CV.
Don't complain or make excuses for anything when writing.
Don't lie or exaggerate what you have done, the content of your statement often gets discussed at interviews.
Don't let errors slip through: always proofread very carefully.
General Surgery Residency Personal Statement Writing Services
A successful surgery residency personal statement that will get you into the program of your dreams will require a number of components. However, creating this type of personal statement can be difficult for any individual and the pressure to have a quality personal statement can only make the process more challenging. This is why we have a team of professional writers on staff to help you write the type of statement you need to be successful.
Whether you need help perfecting a current personal statement or you need someone to create a new statement for you, we have a professional to make sure that you have the perfect statement.
Choosing Us for General Surgery Residency Personal Statement Service
When you turn to us for help creating your general surgery residency personal statement you are turning to a team of professionals. We carefully select a team of professional writers who not only have proficient writing skills but who also have backgrounds in a variety of medical fields.

Our Personal Statement Services Are Guaranteed
We offer a full range of writing and editing services for your residency application. All help is provided through highly qualified specialists that have many years of experience. They work directly with you to achieve the best possible results and we cover everything with the following guarantees:
On time delivery of your surgery statement;
Original personal statement writing with a free plagiarism report;
Error free work: free proofreading is provided to ensure issues are removed;
Full confidentiality on all services;
Satisfaction guaranteed or your money back.
Discover how to submit the most effective general surgery residency personal statement by working with our highly skilled specialists.