What is the MSPE (Medical Student Performance Evaluation)?
When medical students complete their graduation, they have to start a residency in the field of their choice. There are different requirements for residency and MSPE or Medical Student Performance Evaluation is one of them. During the last year of students in medical school, they are advised to set a meeting with the faculty member, who is not an advisor or teacher for the students. The faculty member writes this letter for the student after discussing some facts and getting information about his academic record, during his stay in the medical school.
The latter is about the activities and performance of the student in the medical school and is written objectively. The format and content details are advised by the AAMC. This is an important letter that is uploaded to Electronic Residency Application Service or ERAS, like a medical residency letter of intent. If the student is not satisfied with the faculty member assigned to them for writing this letter, the letter writer can be changed as well. Once the letter is written, students can review it and change if there is any factual mistake. However, they are not allowed to change evaluative statements. The student writes a residency admission essay, but for this letter, he provides the necessary information in the form of a CV and noteworthy characteristics.
What is MSPE Dean's Letter?
MSPE letter is also called as Dean's letter for residency because this letter writing is the responsibility of the Dean of Students. He manages the whole process of letter writing. When the letter is written by the faculty member, it is signed by the Dean as well. Society advisors are there to provide all kinds of help to the students. The MSPE letter or Dean's letter is the same thing, which is a tool to evaluate the potential of the student as a resident. Dean's letter is the most commonly used name of the document, so many students get confused about it. The letter is important and needs to be considered seriously.
When a student requests the office to schedule a meeting with the faculty member the process of MSPE starts. Many students keep delaying it, which is not recommended. If you want to apply for a residency, you should start the MSPE process in May or the Start of June. Don't wait for the deadline. Sooner you start the process the better it is.
AAMC MSPE Task Force Recommendation List
The purpose of this letter is to write a summary of the performance and attributes of the student. MSPE example can make things clear for you. The letter should be honestly written and reflect the performance of the student in an objective way. That is the reason, AAMC has given a list of recommendations regarding MSPE, to make it more effective and useful. These recommendations are for all the medical schools of the country the make the process similar in all schools. The recommendations of this task force are as follows.
The letter should be standardized for all schools. It will make it clear and finding a piece of information will be easier.
Core competencies, according to ACGME, should be mentioned.
Details about the professional attitude must be included.
Mention qualities, which need to the considered.
A list of three qualities is enough. Instead, emphasis should be on the experience and attributes of an applicant.
Comprehensive data should be in the body of the letter.
Information about the grading method should be a part of MSPE.
If the rating is done, provide a comparison of all the students.
The letter should not exceed 7 pages with single spacing. The font size should be 12 pts.
The letter should be divided into six sections, including identifying information, noteworthy characteristics, Academic history, Academic progress, medical school information, and summer.
What Are Noteworthy Characteristics for MSPE Letters?
When a student wants to schedule a meeting with the faculty member for MSPE, he needs to submit the draft of his CV and his noteworthy characteristics. AAMC has limited the list to three characteristics only. You have to select these characteristics, which show your passion for your career, the strength of your character and achievements in medical school. Each characteristic should not be more than two lines. Select your characteristics carefully and make sure they worth mentioning.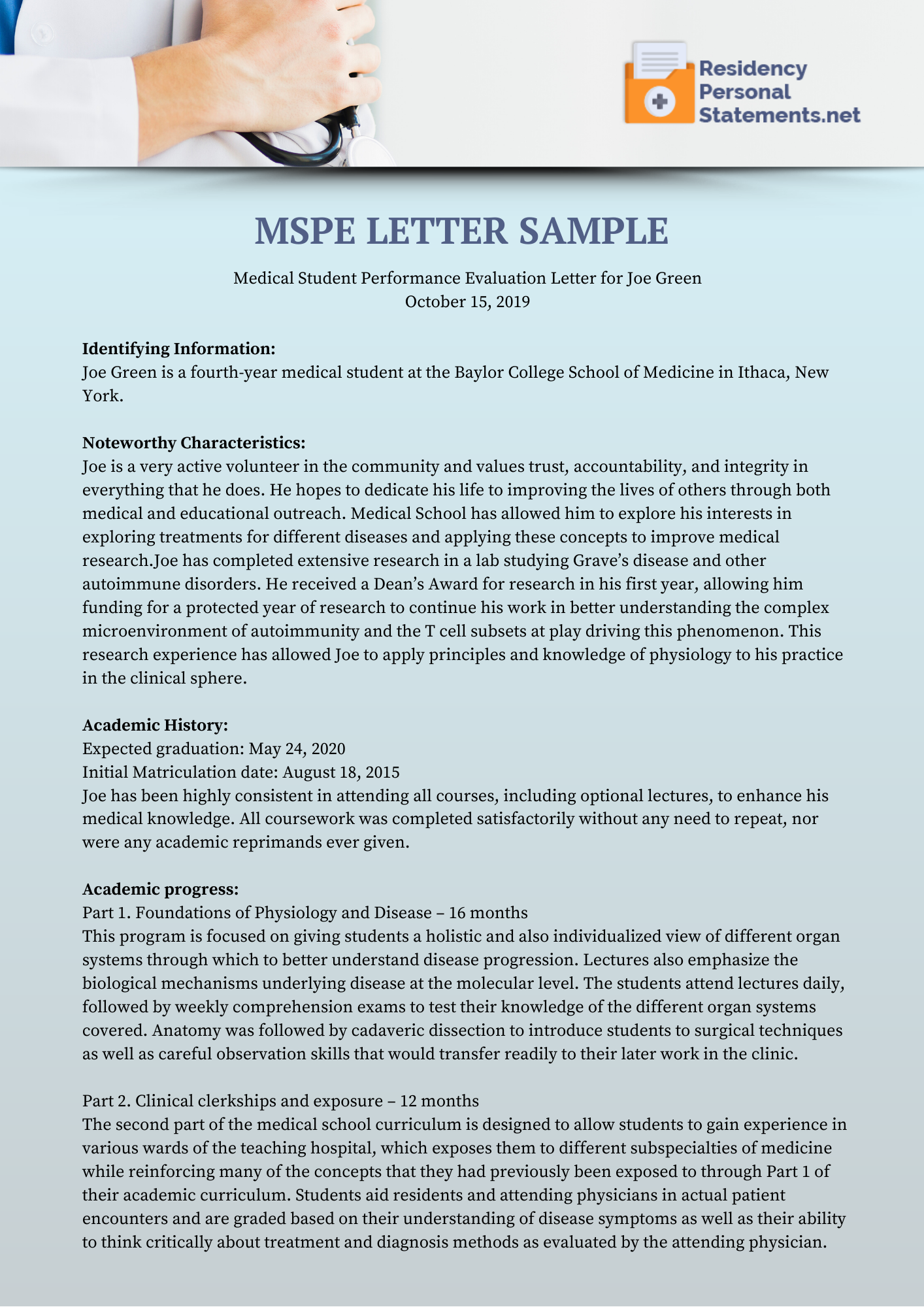 Noteworthy Characteristics Bio Bullets Section
You can find MSPE noteworthy characteristics examples, which you can find helpful. This section is very important as faculty member writing your MSPE will consider your points seriously and he may not make any change in them. Here are some important points about the section, which can help you.
It gives a holistic view of the applicant's personality. It must include your professional and personal qualities.
The section should not look like a copy of your CV.
You are required to mention only three characteristics, which are the highlights of your personality and your stay in medical school.
The characteristics should not be numbered, rather it should be a bullet list.
Each characteristic should not be more than two lines.
Word count for each bullet should be 35 to 40 words.
You can include significant challenges faced during your academic career.
The tone of the letter should be in the third person.
Avoid the use of special characters
Long descriptions must be avoided due to time constraints.
Students can consult their advisors for the identification of characteristics.
Choose those characteristics which are not mentioned in your CV like interests, faced challenges, leadership abilities, work experiences, research achievements, etc.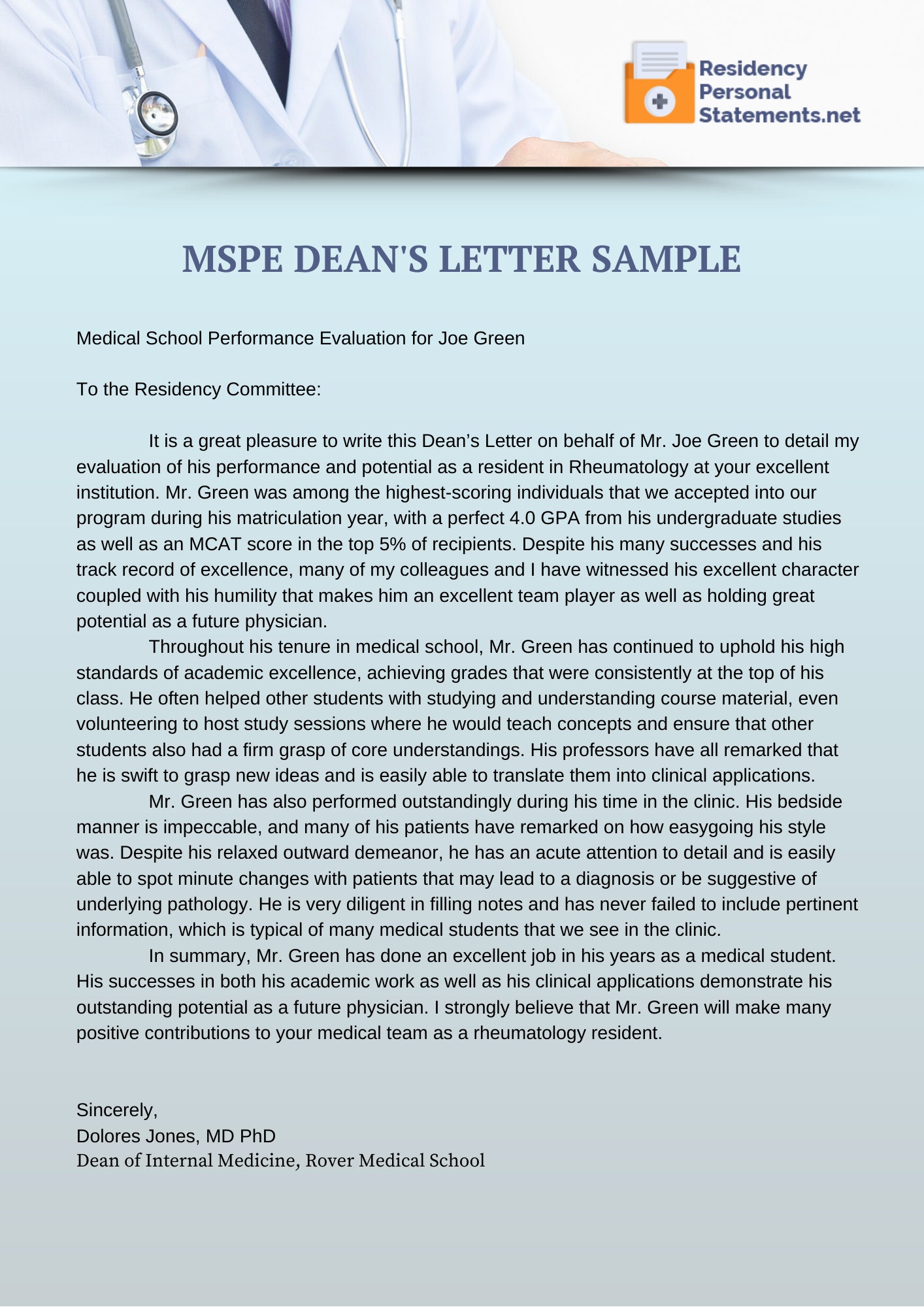 Noteworthy Characteristics Tips and Guidelines to Be Aware Of
Noteworthy characteristics are very confusing to write. We have collected some tips, which will help you to write these characteristics in the best possible way. However, you have to understand that no one knows you better than you. You have to write positive yet factual and realistic characteristics of yours, which reflect the best features of your personality.
These points are important for your residency selection, so make a careful selection. Try to write characteristics reflecting diverse aspects of your personality.
Do not exceed three characteristics.
The characteristics should be presented as a bullet list.
Each point should be precise and comprehensive, with no more than 2 lines.
You can consult your mentor or the advisor for the selection of characteristics.
Noteworthy Characteristics to Include
You can add positive characteristics in the list, however, don't include all positive words you know. You have to make a careful selection, which is realistic as well. Here are some characteristics which you can consider including in your list. The list is to help you to find a positive
Leadership in student committees
Research related achievements
Awards and distinction
Participation in community services
Hobbies related to career
Tutoring and mentorship abilities
Related work experience
Publications
Challenges faced in life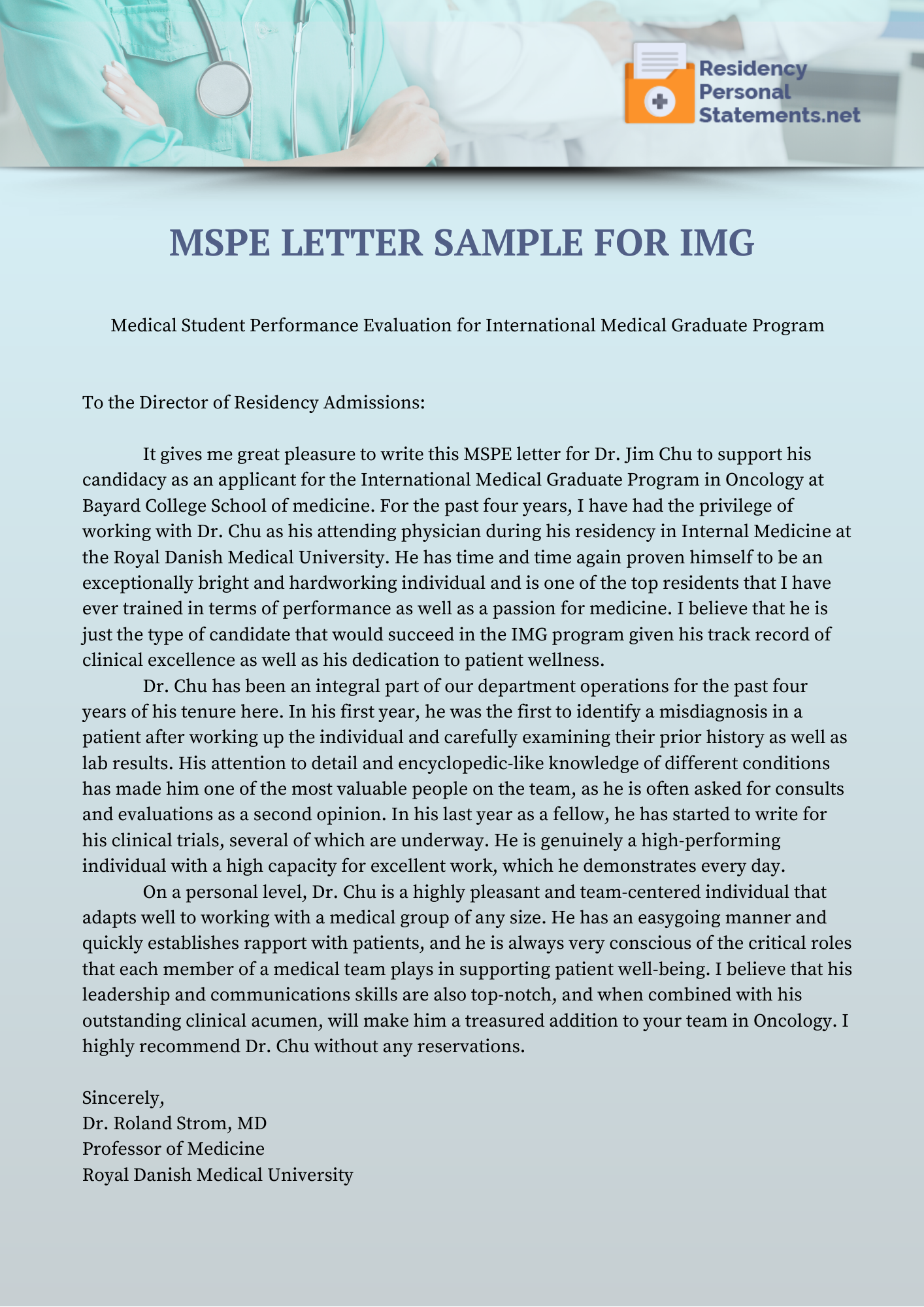 Characteristics of Students Should Not Include
You cannot include everything, see an MSPE Sample for a better idea. Here we have a few points, which you must not mention in your letter. Don't include anything negative and don't exaggerate your qualities. You should be honest and truthful.
The person reading these characteristics is not interested in the specialty you are planning to apply. You have a limited word count, so don't waste it on unnecessary things. There is no need to mention why you have selected a particular residency.
Statements about your academic performance should not be included.
List of activities, you have participated in, should not be added here. Such things are appropriate for your CV.
Frequently Asked Question
What is MSPE for IMG?
Local students need MSPE for admission in residency and the same is true for international medical graduates. International students, who are willing to join residency programs in the US are also asked to submit an MSPE letter along with their application. The requirements for international students are also the same. Many forgiven students consider it a letter of recommendation, but actually, MSPE is a different document and should not be replaced with a letter of recommendation. For MSPE a particular format is followed given by the AAMC but for a recommendation letter, there is no such format. You can find an MSPE sample for IMGs and know the details.
How Important Is Dean's Letter Medical School?
It is very important. Your application will not consider as complete without this letter. You are required to submit this letter to the automatic electronic system for the acceptance of residency applications, or MSPE ERAS. It must be written within the given time and must be submitted before the given deadline. It is a tool to evaluate your performance and abilities during your stay in medical school. The content and format of the letter are advised by the medical association.
Are Grades Included in the MSPE?
If you see a sample MSPE, you will notice that 1 -3 grades are included in the statement. Now school-wide comparative grades are also advised to be added in the letter. Usually, categories like outstanding, excellent, very good and good were used in the past, but now their use is obsolete.
Confused about MSPE letter writing? Our examples can help you to write like a pro. It worth a try!