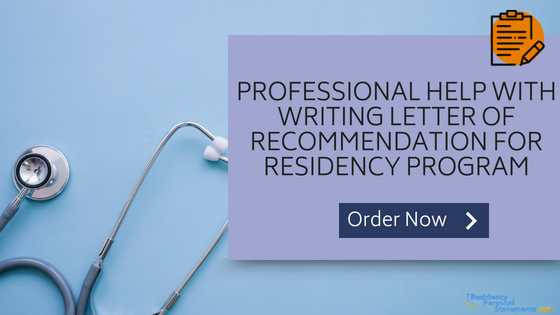 A Letter of Recommendation for Residency Program Sample Can Be a Good Writing Guide
If you are applying to a residency program then you will probably need somewhere between two and four letters of recommendation. There is a good chance that at least one of your recommenders will have a busy schedule that makes it difficult to devote much time to your letter, and they may have several other students requesting a L0R as well. In cases like this, many recommenders allow the student to provide a letter which they will review and sign. However, most students have little or no experience with writing letters of recommendation or creating personal statement residency. The L0R for residency program applicants carries considerable weight and is one of the two most important factors when reviewing a candidate's applications. One way for you to begin learning how to write a L0R is by reviewing a letter of recommendation for residency program sample.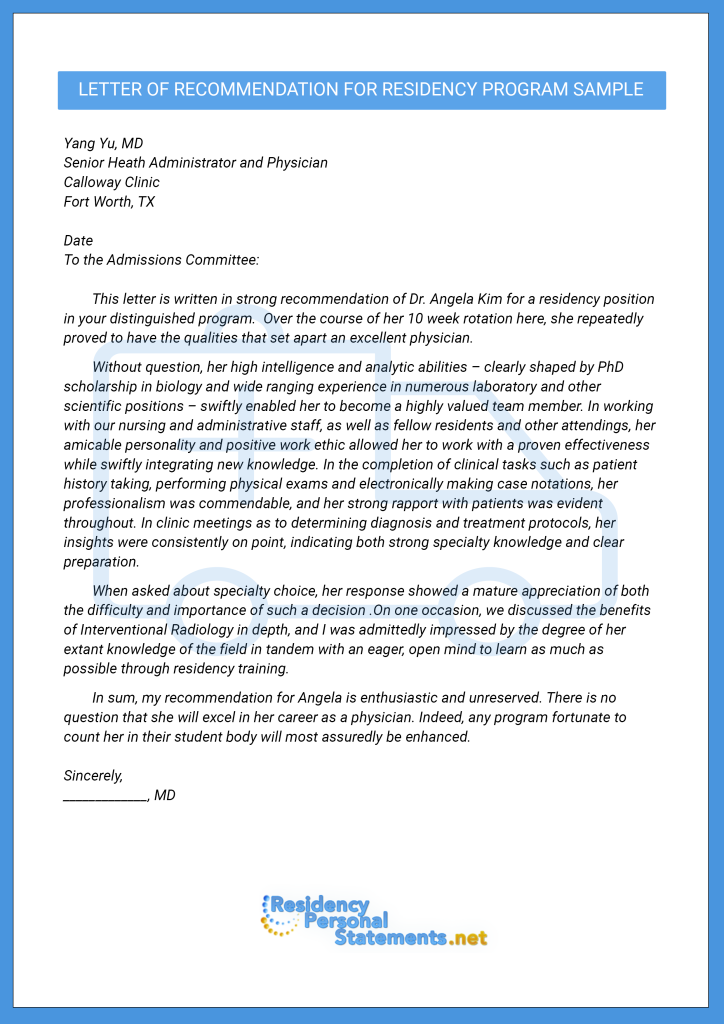 Elements of a Great Residency Letter of Recommendation
A letter of recommendation for a residency program should create a favorable impression and make you stand out from the other applicants. Generic LORs that could apply to any applicant contribute nothing positive to your application. Typically a letter of recommendation for medical fellowship will consist of an introduction, body, and conclusion. Here are some tips for writing each section that will improve your LOR:
Introduction: The opening paragraph that states the reason for writing and identifies the applicant
The reader should get the impression that the recommender has a good understanding of the applicant and knows them well enough to make a valid recommendation. The context in which the recommender knows the applicant and for how long should be included.

Some programs look for evidence that the recommender was enthusiastic about being asked to write the LOR so a sentence saying that they were happy you approached them to write the letter can be beneficial.
Body: Discussion of the applicant's clinical skills, academic abilitie, and personal characteristics should be covered in one or two paragraphs.
When discussing a skill or particular ability the recommender should give an example of when they observed the applicant display the skill/ability. Include skills that are relevant to the specific residency program being applied to.

The recommender should provide the reader with a comparison of the applicant in relation to other students they have worked with. When possible put a number to it such as "in the top 5 percent" as this carries more weight than "excellent" or "outstanding" which are subject to interpretation.

Avoid any vague statements as programs may assume some sort of problem
Summarizes the recommendation
There should be a clear statement of a strong recommendation that leaves no room for doubt or misinterpretation by the reader.

Some programs judge a letter of recommendation by its length. A

personal statement residency

by the recommender that they never exceed one page (or whatever length fits) when writing a LOR can be a good idea.
Reviewing a letter of recommendation for residency program sample from our service is an excellent way to see how to incorporate the elements that make a great LoR into your letter.
Superior Residency Program Letters of Recommendation
Outstanding letters of recommendation is one of the things our service excels at. Some residency program applicants choose to have us write their LoR. Our writers are skilled professionals with advanced degrees and extensive proven experience. They know what program directors and selection committees are looking for and how to make the best impression that will work in your favor.

Advantages of using our service include:
We only provide original letters of recommendation customized to the individual applicant. No generic LoRs written from a template when you use our service.
Guarantee of complete customer satisfaction with every letter we write
Student-friendly rates that won't break your budget
Live customer support 24/7
Contact us for a great letter of recommendation for residency program sample that creates the right impression and improves your chances of getting into the program you want!