How a Physician Letter of Recommendation Sample Can Help You
Regardless of whether you are applying for a position or fellowship program, you will most likely be required to submit several letters of recommendation as part of the application process. Often, recommenders may have busy schedules and more than one request for an LoR. In many cases, a recommender will allow the applicant to write their own LoR, which they can then review and sign.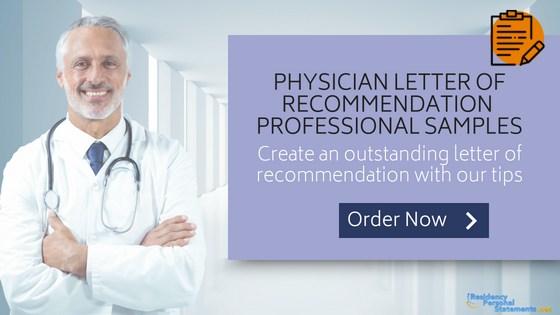 Should the situation occur when you need to write your own LoR, review a physician letter of recommendation sample or psychiatry letter of recommendation sample to get an idea of the format of a letter of recommendation and the type of information you should include.
Learn LoR Structure from a Physician Recommendation Letter Sample
You can check out many samples of a physician LoR for the medical school and admit that a typical physician LoR will be between one and two pages and consist of:
Introduction: states the purpose of the letter and identifies on whose behalf it is written.
Body: includes one or two paragraphs that discuss the skills and abilities of the applicant.
Conclusion: summarizes the letter of recommendation.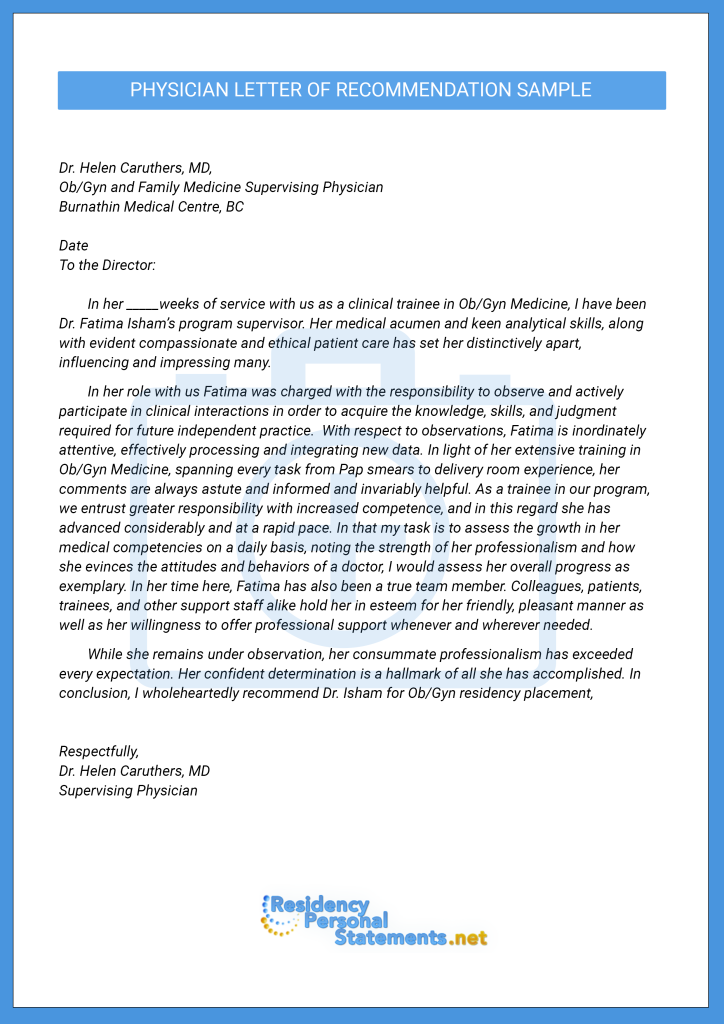 Select an Outstanding Sample of a Physician LoR for the Medical School to Guide You
A decent letter of recommendation and IMG personal statement for the medical residency will contain all of the necessary information and the recommender's endorsement. However, it should be convincing at any cost. Otherwise, in the eyes of many who are familiar with physician letters of recommendation, the recommender will seem to have some reservations. Be aware of this when writing an LoR.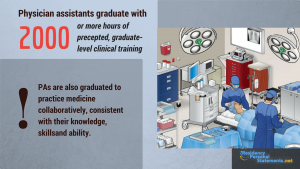 Here are some tips to take into account when writing an effective letter of recommendation:
Use examples. When discussing the qualifications and specific skills, abilities, and characteristics the applicant has, there should be an example of when the applicant demonstrated the particular skill that the recommender observed.
Never be vague. Vague statements make the impression that the recommender is tiptoeing around the problem.
Be relevant. Only include information that is relevant to the position or program being applied for. Anything else is a distraction.
Be honest. Your recommender is putting their reputation on the line for you. Certainly, you want to present your information in the best way, which is fine as long as it's true.
Reviewing a letter of recommendation for the physician sample from our service ensures you are using a great LoR as a writing guide for your own letter.
Our Experts Can Help Craft a Physician Recommendation Letter Tailored to Your Application Needs
---
Physician letter of recommendation for job application

Physician recommendation letter for residency

Medical recommendation letter for physician fellowship

Physician assistant application letter of recommendation

LoR for graduate school physician assistant

LoR for physician assistant Ph.D. programs
Get Great Physician Letters of Recommendation from Our Service
Letters of recommendation are what we specialize in and what we excel at. The key to the quality of our LoRs is our writers. Each of our writers has an advanced degree as well as extensive experience of working with physician letters of recommendation and ERAS personal statements. They are well-aware of what is looked for in an LoR and how to leave the best impression.


Benefits of using our residency personal statement service include:
Completely original letters of recommendation. Every letter is unique and personalized. No generic or prewritten LoRs.
A full customer satisfaction guarantee for each letter we compose.
Budget-friendly rates.
Round-the-clock customer support.
Contact us for a physician letter of recommendation sample written by one of our LoR experts and see the outstanding quality we provide!