As you already know, internal medicine is the medical specialty which deals with the prevention, diagnosis and treatment of different sorts of adult diseases. In order to become an internist, each future doctor needs to go through a residency program. There is a list of top internal medicine residency programs you can check for better understanding specific of each. If you are a recent medical graduate who wants to become an internist and specialize in internal medicine or general medicine, then you will definitely need a well-written and professional internal medicine residency personal statement! Why? The main purpose of a personal statement is to introduce yourself to the program and has to be tailored to reflect your residency choice. If you are planning to apply to advanced specialty programs you will need to alter or modify your personal statement for any preliminary or transitional programs.
The application process includes several main steps and one of them is internal medicine personal statement writing. Our residency personal statements writing service knows how to create the best essay which is going to make your enrollment successful. We can assist you in editing your existing personal residency statement to customize it according to your specific needs. Moreover, our writers will be glad to help you with your MSPE letter writing.
Purpose of a personal statement for residency:
To outline and state that you have the abilities, experience, maturity and skills that a hospital is in need of.
To demonstrate that you hold similar values, philosophies and professional career goals as the hospital and board – you need to show that you are a good match for the residency program!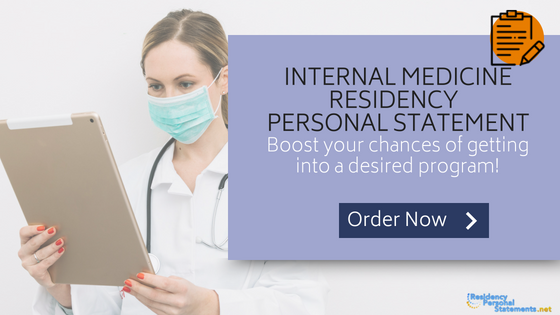 Tips on Creating Best Internal Medicine Personal Statement
First and foremost, if you want to be accepted to the internal medicine residency program, you need to start writing your personal statement for residency application as early as possible, because most attendings' and dean's letter writers will most likely ask for a copy of your personal statement and CV in order to write a letter of recommendation for you.
Think over the content of your statement. Our writers from residency personal statements writing service think that it might be useful to look through some previous application essays you have written in order to review why you have decided to study medicine in the first place. What is more, it might be quite useful to talk to some relatives, friends and mentors: talking to people who know you well, and know what your goals and future plans are, will help you articulate these important factors when you go to write your essay.
Going further, choose the right angle to present yourself. In other words, think of a topic which excites you and write your internal medicine residency personal statement on it. Start writing your essay and remember that within your essay, it is important to address why you are choosing a specific field and what are you looking for in a residency program. Also, don't forget to add what you are hoping to do in the future within your career and why you feel you are a strong candidate for that specific specialty.

Ask Residency Personal Statement Writing Service for Help
Feel troubled about your internal medicine residency personal statement? Fear that the paper is not strong enough and won't land you the desired position? Residencypersonalstatements.net is a professional residency personal statement writing service that specializes in writing personal statements based on the residency program you wish to apply to. We can customize your personal statement according to the expectations you need to meet. When you order an internal medicine residency personal statement from us we will address the following main questions:
Why am I interested in internal medicine/general medicine in particular?
What am I looking for in a residency program? What goal am I pursuing?
What are my professional goals in the field of internal medicine? Why do I want to become an internist?
Why am I a good match for the residency program?
What accomplishments need to be outlined in the personal statement?
What contributions can I offer to the residency program and to the field of internal medicine? What do I have to offer?
What are some of my personal interests?
What We Offer for Every Order
An expert in internal medicine personal statements will be assisting you!
Your personal writer will contact you and keep you updated.
You will get the first draft of your personal statement in advance!
Your residency personal statement will be 100% tailored to the chosen program.
The order is not complete until you are 100% satisfied with the final draft!
Affordable Internal Medicine Residency Personal Statement Writing Service
Residencypersonalstatements.net hold the view that one of the most important assets in life is time. Time to actively develop yourself, work on hobbies, engage with family and friends, participate in activities that are most appealing to you. We want to take the stress out of the equation and ease your worries about writing an internal medicine residency personal statement by offering a personalized, professional writing service that is affordable, effective and will not impact your budget.
When you order a personal statement for a residency program from us, our writers will assess your specific needs and work to provide best residency personal statement writing service that is hassle-free, professional and take into account all the main questions that need to be answered in the most reasonable length possible.

We Hire Only Professional Writers for Our Internal Medicine Residency Personal Statement
Residencypersonalstatements.net imposes strict requirements on any writers who want to join our team. We employ a rigorous training, testing and qualification-check procedure so that we are certain they can provide the highest quality personal statements for residency programs.
We have special designated professional writers who specialize and write only internal medicine residency personal statements and nothing else! Some of our writers hold Master's and PhD degrees and know exactly what residency admission boards are looking for. We also guarantee your money back if you are not satisfied for any reason at all. We hope that you understand that we are attempting to build a foundation of being an honest, reputable and high-quality service.
You will be able to communicate directly with your professional writer, who will also be your personal writer and customer support representative! They will be able to answer any questions, concerns or issues you may have or experience.
Choose to write your internal medicine residency personal statement and you will not regret it!
You may consider turning to our experts from residency personal statements writing service for assistance. Be sure that they will do the best they can to craft a customized paper for you.