Why You Need an Internal Medicine Letter of Recommendation Sample
Application for an internal medicine residency program will usually require several letters of recommendation. An internal medicine letter of recommendation can be of utmost importance for the selection committee and is essential in making a favorable impression. To start with, discover internal medicine personal statement examples or a great sample letter of recommendation for the internal medicine residency to get a better grasp of writing documents of such a type.
In many cases, recommenders have busy schedules as well as requests for letters from other residency program applicants. They may not have time to write a letter of recommendation that makes you stand out from the rest of the applicants. It is common that applicants write their own LoR the residency application process requires. Then, their recommenders only need to review and sign the letter.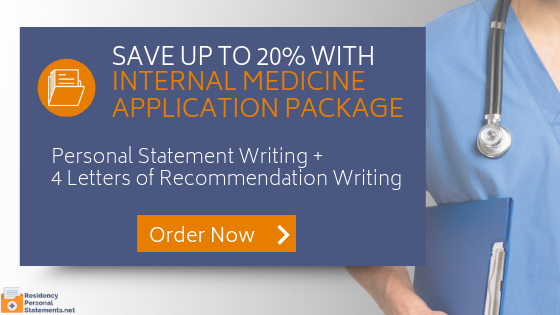 How to Write an Internal Medicine Letter of Recommendation
Ever letter of recommendation for the internal medicine residency is unique as it is about a certain individual, but there is a generally accepted format that has proven to work well. A letter of recommendation should contain at least three paragraphs. By reviewing an internal medicine letter of recommendation sample, you will see how letters should be structured and the type of information they should include.
Your Internal Medicine LoR Format
Introduction
---
States why the letter is being written and the name of the student.
The recommender should make sure they know the student well enough to make a meaningful recommendation. Include the context in which you know them and the frequency of contact.

Recommenders should provide their credentials and years of experience. It all proves their ability to compose an LoR.
Second Paragraph
---
That's where the recommender should discuss the student's academic performance, clinical skills, and personal qualities.
The recommender should include specific examples of how the student demonstrated a particular skill or quality.

Any skills and abilities related to internal medicine that make the student out of the ordinary should be included.

The recommender should compare the student to others they worked with, for instance, "He/she is among the top 10 of those I have worked with in the last five years." Comments like "excellent" have different meanings at different institutions, so they cannot be as convincing as specific figures are.
Conclusion
---
Summarize the recommendation.
Provide a clear summary statement, for example, "I strongly recommend him/her without reservation."

Avoid vague statements that can be interpreted in various ways.
A letter of recommendation internal medicine program needs to be not just good when you are applying for a residency program: it must be ideal. Our service can provide you with a great internal medicine recommendation letter sample or physician letter of recommendation sample that will show you what kind of paper is effective for sure. In case you need to find out what a typical program looks like, you can find the relevant videos on Youtube that will showcase a practical side of the profession.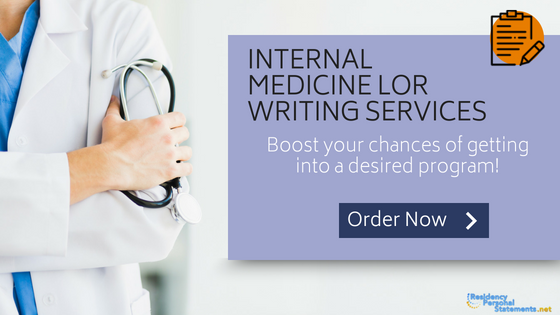 Tips to Write a Successful Letter of Recommendation for Internal Medicine
We have already discussed the format for creating the best letter of recommendation. However, there is something else for you to consider. Our specialized writing service also helps applicants to write an LoR in accordance with the program being applied for. If you have decided to become an internist and want to write an internal medicine LoR, thanks to which you can get admission to the internal medicine residency program, we are here to assist you.
Here are some useful tips that will definitely help you to write a successful letter of recommendation for the internal medicine residency program:
When writing an LoR, it is essential to stay focused on that specific category in which you are going to apply. Internal medicine, or general medicine, is one of the most popular fields of medical science for which the maximum number of students submit admission applications due to its endless scope and opportunities, but only a few become successful every year. That is not just because of luck: the lack of something in their application has dissuaded the admission board from accepting them. You know that the recommender has no time to prepare an exceptional LoR for you. So, to highlight the reason for choosing the internal medicine residency program, you have nothing to do but compose such an LoR yourself. To do that, pay your full attention to the required ACGME competencies that are considered by the selection committee. These are patient care, medical knowledge, practice-based learning, fluent communication, and professional attitude. All these things are obligatory when it comes to writing a truly successful LoR for internal medicine.
On behalf of your recommender, you can provide instances of your deep interest and impeccable performance. For example, your recommender can write a story about how you took care of one patient when no one of their relatives was there and how you spent your precious time with them. Such proof for the student's humaneness is also a powerful addition to an LoR for the internal medicine residency program.
An LoR must be focused on the strengths of the student. Be very careful while preparing an LoR on behalf of your recommender. You have to emphasize your strong sides that are particularly related to the field you are interested in. It is vital that you mention how long the recommender has known you. A recommendation letter must not include any things that had happened sometime before the recommender met you.
In the conclusion, your recommender has to lucidly state why they are highly recommending you and for what reason you will be a valuable asset to that particular internal medicine residency program.
If you think that you will make some mistake when preparing an LoR for the internal medicine residency program, you shouldn't take a risk. Just contact us, and we will do it for you. We will provide you with a letter of recommendation that will certainly help you get shortlisted.

Outstanding Internal Medicine Letters of Recommendation
A letter of recommendation is one of the two most significant factors that the selection committee considers when selecting applicants for the residency program. Our residency personal statement services realize this, and we specialize in helping students get accepted into the programs they have chosen. Each of our writers has an advanced degree and proven experience in writing letters of recommendation for residency programs. Each internal residency LoR we write is always original and tailored to the individual's needs. Additional benefits of using our service include:
A complete satisfaction guarantee
On-time delivery
Affordable rates correlating with the student's budget
Unlimited revisions at no additional charge
24/7 customer support
Contact us for an internal medicine letter of recommendation sample that will make you closer to getting accepted into the program you want!
Order now