About Us
We are a profile service helping residency applicants with writing & editing personal statements and other documents they may need to apply to their chosen programs.
Our writers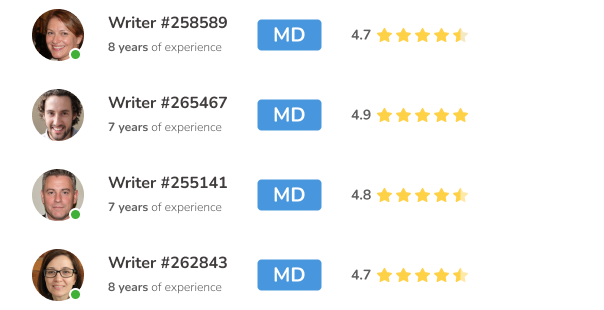 Popular specialities among our customers
Internal Medicine
Pediatrics
Family Medicine
Medical Genetics
Medical Genetics
Emergency Medicine
Child Neurology
Pathology
Anesthesia
Otolaryngology/ENT
Transitional Year
Psychiatry
10 years of residency application expertise
We are well-versed in providing comprehensive help to applicants of any background (USMGs & IMGs, DOs, fellows), as well as candidates with all types of red flags (several attempts, low grades, gaps, severe academic discrepancies, long time since graduation, etc.).
We are experienced in working with
IMGs
USMGs
Fellows applicants
Our customers are accepted at:
Our values
Success is impossible without quality, so we aim to provide the best.
No templates
Only strong text
Easy communication
Everything is possible
Free revisions
Our writers
All our writers are adept at providing top-quality services for writing & editing outstanding residency application personal statements.
Writer #258589
8 years of experience
1 345 orders completed
Writer #265467
7 years of experience
976 orders completed
Writer #255141
7 years of experience
824 orders completed
Writer #262843
8 years of experience
731 orders completed
Writer #192868
10 years of experience
1093 orders completed
Writer #263346
7 years of experience
654 orders completed
Writer #3985
7 years of experience
995 orders completed
Writer #259102
7 years of experience
762 orders completed
Writer #315277
7 years of experience
879 orders completed
Writer #257805
9 years of experience
1109 orders completed
Hire a writer
We are ready to help you 24/7
Just call or drop us a line, and we'll come to your aid
Call us
Toll-free:
1-718-736-2941
Message us
Average response time is 5 minutes
Live chat