Obstetrics and gynaecology (or obstetrics and gynecology) Letter of Recommendation
Obstetrics and gynecology (Ob Gyn, OB/GYN, OBG or O&G abbreviations as according to Wikipedia) are surgical medical specialities dealing with the female reproductive organs during pregancy or their normal state. These two specialties are usually combined to form a single postgraduate training program to deal with the entire scope of female reproductive organ pathologies.
There are many medical students that apply for graduate and postgraduate training programs in Ob/Gyn. To complete the admission process they need a Ob Gyn letter of recommendation written by individuals that occupy reputable medical or non-medical positions, whether it be a medical school professor, guest lecturer or a doctor.
Usually, a medical professor may not even have a standard template to offer you and will ask you to present a document that they will skim over and sign. We can write a recommendation letter that will list all your most important and relevant strong points so that even your professor will be impressed upon placing their signature!
Ob Gyn Recommendation Letter Essentials
Residency LoR writing is a serious undertaking and should not be left to chance or even trial-and-error. If you have tried to formulate a recommendation letter by yourself and you realize that you are experiencing difficulties – turn to our professional writing services for assistance!
Ob Gyn letter of recommendation writing is involved, focused and detailed. Let one of professional recommendation letter writers save your time and energy!
The main points of a recommendation letter should and will cover the following:
Relationship of the recommending party to the applicant (whether the recommending party is the applicant's dean/scientific advisor or tutor, chief doctor at the applicant's place of practice etc.);
The recommending party's objective evaluation of the applicant – is he/she really worth accepting for the residency training program because of their personal and professional qualities;
Summary – does the author recommend that the residency committee members choose the applicant for the residency training program and inclusion of concluding statements.
A Powerful Residency Recommendation Letter = Key to Success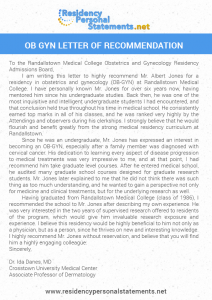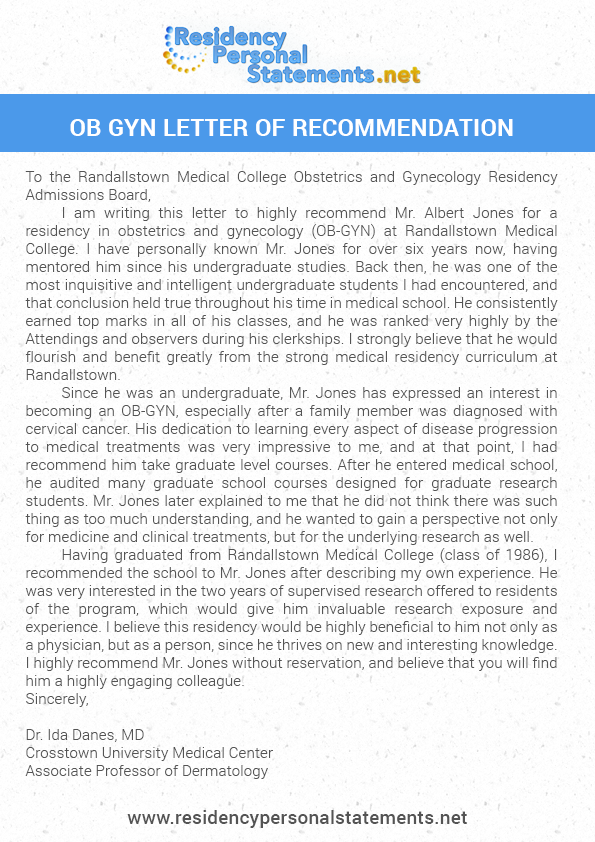 A winning letter of recommendation together with a Ob Gyn personal statement must contain the full names of both the recommending party and the residency applicant/medical student.
The recommendation letter will be written in a formal, but appealing, convincing and persuasive style. Our writers select word combinations, phrases, terminologies and keywords carefully so as not to include any unecessary information! We work to streamline your letter fo recommendation so that it can be read quickly and so its main points are easily understood!
When you order a Ob Gyn letter of recommendation from our team of professional writers, you are guaranteed to receive a high-quality finished document or get your money back!
Purchasing an Ob Gyn Letter of Recommendation Online
We want to save you your time, but we also know that there are a myriad of different companies that offer poor online services. This undermines our ability to improve our image and as a result we face double competition on the market. It is difficult to recommend yourself without an objective standard. When you order a Ob Gyn residency letter of recommendation from our online company we guarantee you will be satisfied or we will provide you with a refund.
All of our Ob Gyn letter of recommendation letters are professional, customizes and plagiarism-free!