New Grad Nurse Residency Programs 2017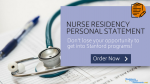 If you've entered a graduate nursing program, one of the final parts of your studies will be to do a residency. This is a hands-on study that you'll do in a hospital under the supervision of an attending physician. It occurs after you've completed your classroom work. There are many new grad nurse residency programs out there, which is why you always want to look at your options. Generally, the nursing school you're attending will have established partnerships with hospitals in the area. However, you may be able to find another hospital in which to do your residency if you want. Of course, for this, you have to prepare letter of recommendation for residency and check our sample letter of recommendation for residency and fellowship.
Even if your school has a connection with a hospital, it doesn't mean you're automatically eligible to do your residency there. Instead, you have to apply and be accepted into the residency program. For most graduate nurses, these requirements aren't too difficult to meet. You can also find some assistance with some of the application requirements, especially your personal statement. Our team of experts can help you craft an outstanding residency personal statement for any application.
What Are the Eligibility Requirements for a Top Residency Program?
To be eligible for one of the new graduate nurse residency programs, you have to be a recent graduate with a Master's of Science in Nursing program or the Doctor of Nursing Practice degree. The doctoral degree is slowly replacing the master's degree, so it will soon be the main requirement to enter a residency program.
Another requirement is to have a RN license in the state in which you are applying for a residency. If you have your license in another state, you will have to transfer it to the current state. This means you'll have to apply for a license in your new state. If you hold a license in a state that is part of the Nurse Licensure Compact, you will be able to practice nursing in your new state for up to 90 days, but you will not be eligible to apply for a residency program unless you transfer your license.
Finally, residency programs are paid positions, and many do require that your residency serves as your first RN job or as one of your first. This doesn't mean you can't have worked in the nursing field before, but you cannot have had a job that includes more than a year of full-time work as an RN. Note, however, that this requirement does vary from program to program. Many programs do require this to be your first RN job. The program you graduated from must be a part of an accredited nursing program. It needs to either be accredited through the Commission on Collegiate Nursing Education (CCNE) or the National League for Nursing Accrediting Commission (NCNAC).
You must have taken and successfully passed the NCLEX exam before your residency start date. This exam, the National Council Licensure Examination, is required to become an RN. You do not have to have taken this exam when you apply to the residency, but you must have passed it before you can start. Again, each residency program may have its own additional or slightly different qualifications you need to meet before you can apply. Make certain you learn what these requirements are before you apply.

What Documents Do You Need?
When you apply for a residency program, there are a number of different documents you'll need to submit. Again, these documents do vary from program to program. The following are the most common documents you'll need to apply for a graduate nursing residency. Make certain you double-check with the program you're applying for to make certain you don't need anything extra. The first document you'll need to submit is your official application. Most residencies now offer online applications, so you don't have to fill anything out and mail it in. This application generally includes your personal statement. In this statement, you will discuss why you want to be a nurse, what you believe you can gain from the residency, and why you're a good candidate for the program.
You may also need to answer a number of other nurse residency interview questions. These questions can cover anything from your education and experience to your passions and your ideal nursing career. Each residency may have different questions, or some may have no additional interview questions other than what's on the application. Your online application may have a space for you to add a cover letter. If it doesn't, the program may not want a cover letter. For those programs you need to email or mail your application to, include a cover letter in the body of your email or as a separate page. This should be similar to the cover letter you would send out with a job application. Include a summary of your qualifications, why you want to enroll in the residency, and why you think you're a good fit. Don't copy directly from your personal statement, but you can paraphrase it.
Finally, you'll need to include your resume and transcripts from your nursing program. Most residencies only want your nursing program transcripts, but some may want your full one. Be sure you check to see what is required.
How Much Does Your Personal Statement Affect Your Acceptance?
Whether or not you're accepted into a residency program may actually come down to your personal statement. Many applicants to these programs graduated with top grades, so that isn't always the deciding factor since everyone is as qualified as the other applicants. Sometimes, the only difference between applications is the personal statement.
This means your personal statement needs to be very well-written and perfectly describe your nursing goals, your passion for the career, and why you believe the residency is right for you. The nursing personal statement conclusion should tie everything up and leave the reader with a good understanding of who you are and what you want to accomplish. This is why many applicants work with a professional writing company. Writing a great personal statement may be the only thing that puts you ahead of the competition.
The Top 5 New Grad Nurse Residency Programs
Looking for a top residency program in the USA? Here are the current top five.
Baylor University Medical Center at Dallas – This program is a part of the largest nonprofit health care system in the state of Texas.
Cedars Sinai Medical Center – Based in Los Angeles, this program was the only one in the area to be awarded the National Research Corporation's Consumer Choice Award in 2013-14.
Stanford University Medical Center – A part of Stanford University in Palo Alto, CA, this residency program focuses on adult care.
University of Colorado Hospital – This residency program can be done at one of four different hospitals in the state. These hospitals include facilities in Denver and Colorado Springs.
George Washington University Hospital – Located in Washington, D.C., this residency program generally only accepts individuals living in the surrounding area.
New grad nurse residency programs may be announced at any time. You may want to check to see if there's a new program in your area that better fits your needs.

Choosing the Best Program
Finding the best grad nursing residency does take a little bit of time. You should do some online research first to determine which programs match your personal nursing passion and agenda. Some only offer residencies in adult care, while others do have pediatrics and other specialties. Location, cost, and requirements may also play a part. Find a program that you believe will fit your needs and that will help you further refine your nursing skills.
Facts about Admissions to Residency Programs
These programs can be found in many areas. In 2011, 37% of all hospitals had a nurse residency program. As more and more nurses are needed, additional programs have been started at other hospitals. Most large cities have at least one residency program.
These programs are often incredibly competitive. For example, the Advocate Health Care residency often has 200+ applications for 10 to 20 residency positions. Other programs may have even smaller acceptance rates. You can often find the acceptance rate for a particular program on its website.
Nurse residencies do pay. According to Glassdoor, some pay up to $29 an hour. Your admission application, then, is also something of a job application. Keep that in mind when outlining your skills and experience.
Let Us Help with Your Residency Personal Statement
If you're ready to apply for a residency program and want some help with your personal statement, we're here to assist you. It's important that your statement is well-written, error-free, and presents you as the best candidate possible. A team of our residency personal statement service has years of experience working on personal statements for nurses and can craft an essay that perfectly represents you and your goals.
Don't lose your opportunity to impress the admitting panel with your application documents and perfect answers on nurse residency interview questions! Provide us with characteristics of your personality and our specialists will help you to show why the panel should accept exactly you.
Before you apply to any of the new grad nurse residency programs, talk to one of our experts about your personal statement. It may be the one single thing that determines your acceptance.
Get Help
You May Also Like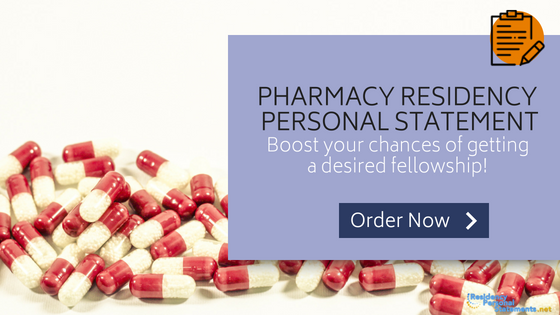 December 19, 2012
331
856
Starting to Write a Pharmacy Personal Statement During the process of applying to a medical educational institution the entrants are almost always asked to compose a residency personal statement. Its types in most cases depend on the chosen specialty and may...
Read More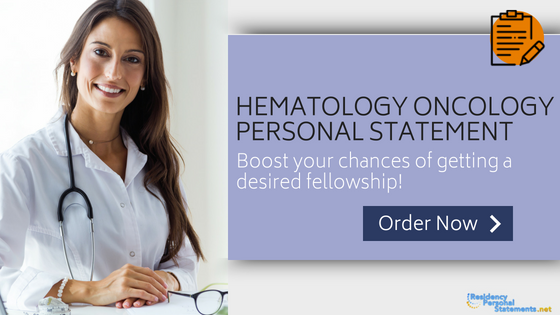 It's not easy getting both into a hematology oncology fellowship and nurse residency programs especially since there are hundreds who will be vying for the same program as you but it is worth a try if you are really interested in developing your knowledge...
Read More