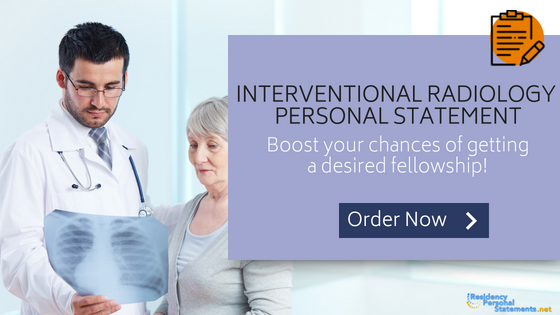 For those who are interested in applying interventional radiology fellowship or endovascular neurosurgery fellowship, putting together the necessary documents early can help save you a lot of headaches especially when the submission time is nearing. Among the required documents to be submitted are your updated curriculum vitae, digital photograph, USMLE scores, updated letters of recommendation where one is written by your program director, and your personal statement.
Most applicants don't mind gathering the necessary documents to go with their application but when it comes to writing their personal statement, many choose to write when the deadline looms. The result? A poorly written paper.
How to Write an Impressive Interventional Radiology Fellowship Personal Statement
Make an outline. Having an outline is a good way to gather your thoughts so that you'll be able to translate a clear and coherent statement afterwards.
Know your strengths. The problem with personal statements is that you have a limited word count. With this in mind, it is better that you focus your attention on your strengths that are related to the fellowship program that you are applying for.
Keep it simple. Yes, you're good with words but don't make your statement too complex with wordy sentences. Keep things simple, easy to understand, and interesting and you will get to engage your readers better.
Let others read. A good way to determine whether your statement can impact your reader is to have someone read it. Their feedback will be a good indication on whether your statement is good or not.
State your reasons. When writing your residency application personal statement, don't forget to write your reasons for wanting to pursue this course.
Quality Personal Statement for Radiology Fellowship
If you feel that your personal statement lacks punch or if you just want someone to write yours from scratch, it is important that you choose a professional writing service to do it for you. Although there are plenty of writing companies online, only a handful can deliver as promised.
Fortunately, you've come to the right place because we are experts when it comes to delivering high quality personal statements that are customized based on the needs of our clients. What we can do for you is review and critique your existing statement as well as edit your work if you prefer. If you want your statement to be written from scratch, we can do so as well. You just need to place your order with us and we'll get our writers to work on it for you.
Use Your Radiology Fellowship Personal Statement to Apply to the Best Programs
If you are going to take the time to write an effective interventional radiology fellowship personal statement then you may as well apply to the best programs. The following are generally considered to be some of the best that you can apply to:
Harvard Medical School: This one year ACGME approved program offers the maximum of hands on participation and not simply observation.
University of California (San Francisco): this program trains four fellows each year and will give you an experience of the full range of procedures that you will need to be familiar with.
Stanford University: known for its research this program has delivered many new treatments into the mainstream over its history.
New York Presbyterian Hospital: this fellowship trains 5 fellows each year and they will work at two major hospitals in the state.
University of Pennsylvania: this program offers the dual IR/DR certification. It caters for 8 fellows during each year.
What Not to Write About in Your Interventional Radiology Fellowship Personal Statement
Your radiology fellowship personal statement is a vital part of your application and can often be the deciding factor in you being invited to interview. So it is very important that you don't make any mistakes with your writing or you will lose this opportunity. The following are some of the areas that you must avoid when writing your personal statement:
Don't write about all of your rotations and electives, these will have been covered within your CV.
Don't use the statement as a way to make excuses for any past poor performance.
Never complain about past programs in your statement.
Don't write about anything that is not fully relevant to the application that you are making.
Don't write anything that is not completely true.

Cheap Writing Service
Ordering a personal statement for your interventional radiology fellowship doesn't have to cost you a lot especially when you order one from us. Our rates are considerably cheaper compared to others and the best part is that we maintain high quality writing at all times. Just because we have lowered our rates it doesn't mean that we're going to compromise the quality of our work. Not only will you get big savings with us but you'll also get the best customized personal statement from us.
Get an interview and ranked highly for your selected program by using our professional help with your interventional radiology fellowship personal statement writing.