Why Should You Provide a Cover Letter for Observership Applications
Every observership program is different and has different requirements and you can also apply directly to individual physicians or departments in the hope of getting a placement. However you do it you need to ensure that the first thing that the person reads will make an impact in your favor.
This will often be your cover letter for observership. This needs to be written in a way that leaves no doubt in the mind of the reader as to your need to take part in an observership with them.
How Should You Write a Cover Letter for Observership in Hospital?
A cover letter for observership or observership application should not be a lengthy document, at the very most in should be a single page in length. That does not mean writing in micro font and removing the borders to say more either! Your letter should be in 12pt font with clear wide margins so that it is easy to read and looks clean. You need to cover the following areas within your letter:
Briefly state where your interests lay and why so that it is clear you have a real interest in their area
Show that there is a specific reason and need to conduct your observership and what you specifically hope to learn from it
Give specific reasons for coming to them for your observership
Make Your Cover Letter for Observership Stand Out
A well written letter will make a huge difference to your application if you want to impress.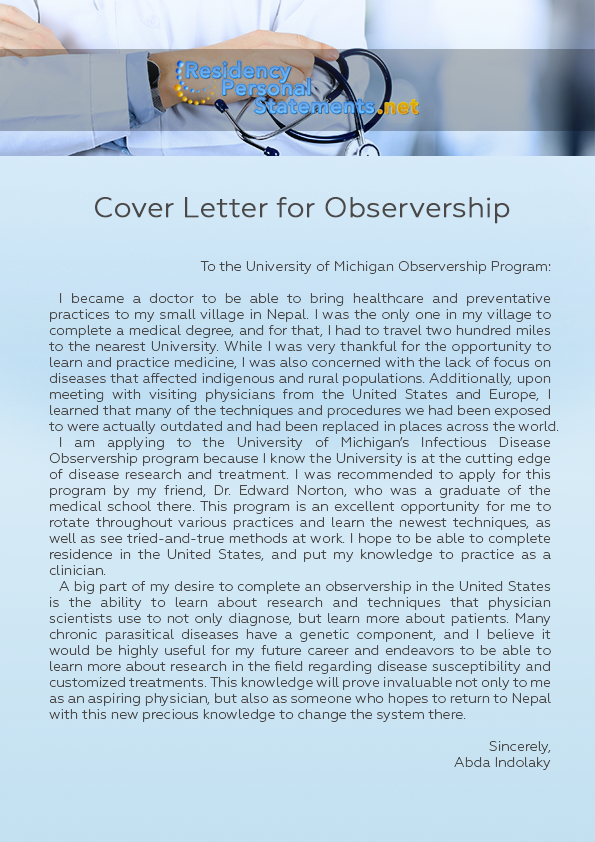 Many people do not spend enough time on ensuring that their letter is written in a manner that will get the reader's attention which is vital if you want to persuade them to accept you:
Always write from a positive view point, what you will do, not what you want to avoid
Use concise and easy to understand language, don't try to show off
Never state anything that is obvious; they know you are writing the letter and that you are applying to them etc.
Don't use any clichés in your writing
Never use humor nor exaggerate your abilities or anything else
We Can Write Your Cover Letter for Observership
If you are wondering how you are going to write the very best cover letter for observership you need worry no longer. The answer you need is right here through our professional yet highly affordable highly specialized services. We specialize in medical residency applications and are also highly experienced in observership applications to all different specialties and hospitals. Our experts hold higher degrees and also have a huge amount of experience in writing successful letters.
So contact them today for professional writing of your cover letter for observership covered by our money back full satisfaction guarantee.