Basics of a Psychiatry Letter of Recommendation
Have you just completed your studies, and do you intend to join an available psychiatry residency program offered by one of the best medical institutions in your locality? If you submit an admission application without an idea of what it should be, you might find yourself unable to get into the chosen institution and achieve your academic and career goals. One of the documents that have become fundamental for such applications is a recommendation letter, which you are expected to submit together with your admission application so that the institution can figure out whether you have what they are looking for.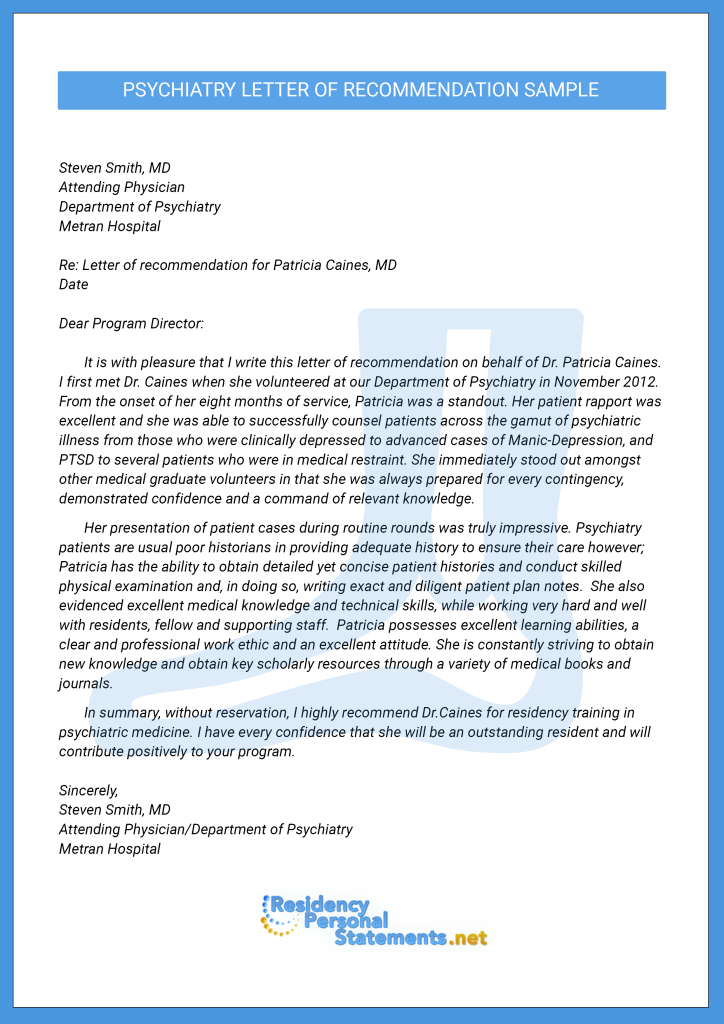 Psychiatry Letter of Recommendation as Part of Your Application
The application process for psychiatry will entail submitting a letter of recommendation for the residency. Requirements vary from program to program, but most will want letters from both psychiatry and non-psychiatry rotations. It is best to check it for each program separately. In many cases, when recommenders have busy schedules and many requests for a letter of recommendation, they will allow students to provide an LoR for their signature. If you have never written such a letter, you should not have any worries, since we are here to ensure that you understand the process of writing a psychiatry residency personal statement. If you wish to learn how to compose them with ease, you should check out our psychiatry residency letter of recommendation sample from our website, and we assure you that it will be a great help to you.
The basic requirements for a recommendation letter for the residency in psychiatry are shown here:
Introduction: states the reason for writing a letter and identifies the applicant recommended.
Body: should consist of one or two paragraphs discussing the student's qualifications for the psychiatry residency program. Residency LoR may include academic qualifications, clinical skills, personal qualities, and anything else that would be relevant to the application for the residency program.
Conclusion: summarizes the recommendation.
Including the necessary information will allow you to write a good letter of recommendation for the residency. However, every residency letter of recommendation the selection committee receives will be considered. For the applicant to succeed, it must be great. Reviewing an outstanding psychiatry residency letter of recommendation sample or internal medicine letter of recommendation sample can give you some idea of what makes a great LoR.
Getting Your Psychiatry Residency Letter of Recommendation Sample
There is no simpler approach to ensuring that you can solve the problem than using the solution that has already been invented. It applies to writing recommendation letters, where there will be no easy way of learning how to compose these letters other than using the samples that have been written to check what is essential and what you need to address. If you wish to have a sample that you can always use to write your own recommendation letter, you should visit our website, and you will be guaranteed to find the best fit for your area of interest, psychiatry residency letter example.
Points Addressed in a Letter of Recommendation for the Residency Sample
For those who are really interested in learning everything about writing this type of letter, it is necessary to use tips on how to achieve this. You may do various researches on what the relevant points are, but until you come across a perfectly written sample that falls under the same category as yours, you will not manage to understand the most appropriate points and how to address them in your letter. The sample shows how to arrange those points and also what format to use when writing this letter.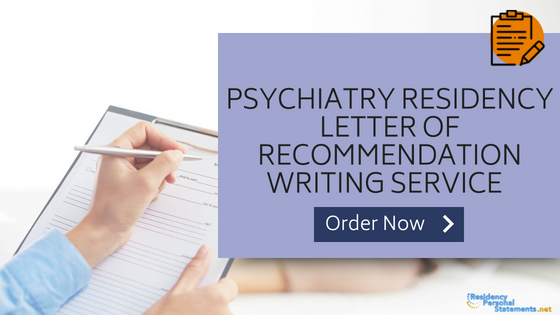 Check Out a Great Psychiatry Letter of Recommendation Sample
Every recommendation letter applied for the residency program is likely to be satisfactory. Nonetheless, to stand out, your letter must be better than that. Here are a few tips for writing an exceptional letter of recommendation:
The recommender should indicate the context in which they have known the applicant and how long. The reader must get the impression that the recommender knows the applicant well enough to understand them and make a valid recommendation.
Ask the applicant about the purpose of this letter of recommendation. Psychiatry is a broad field, and you have to write a letter about that particular purpose, for which the applicant will use it. In this way, you will be able to write an effective letter that will attract much attention of the selection committee.
When discussing the applicant's qualifications, provide specific examples of how the applicant has demonstrated a particular skill or ability that the recommender has noticed. Examples that are relevant to psychiatry are the best.
Include statistics, such as "in the top 10 percent," and make comparisons to other students rather than just describe the applicant as excellent, as it is interpreted differently in various programs. In many programs, "excellent" is used to talk about students who may be among the worst, while in others, it means the top 25 percent.
If you don't have any solid info, ask the applicant to provide you with their academic record or other achievements you can mention in a letter. It will make a piece of writing more convincing.
Don't include any wrong information in your letter of recommendation. Don't exaggerate anything about the personality and abilities of the applicant. It should look like a true representation of their qualities.
A letter of recommendation should not be boring and long. A letter with 3-4 small paragraphs will be enough to mention the personality and abilities of the person.
In the conclusion, where the recommender summarizes their recommendation,they should clearly state their strong endorsement of the applicant. A vague recommendation is more or less the same as proof for having doubts about the applicant's skills.
Don't forget to provide your contact details in a letter. Sometimes the selection committee has some further questions, and they might ask you about that, so make sure you add your proper and valid contact information.
Use a top-notch psychiatry letter of recommendation sample as a guide. You shouldn't copy, but you can get an idea of what things work.
If you are unsure about where to get a sample, our service can provide a superb psychiatry LoR sample of the highest quality for you to read.
Top Psychiatry Programs and Their Requirements
If you have acquired your M.D. and are now looking for a residency in psychiatry, it is vital that you know top places that offer programs in psychiatry and their requirements. The following are some institutions where you can complete your psychiatry residency program.

1. John Hopkins School of Medicine: Considered the top school in the US when it comes to psychiatry. They offer different residency programs according to the experience of doctors. If you want to get a place there, you need to fulfill the following requirements:
Submission of your application through ERAS
Personal statement
Transcripts and a recent photograph
Letter of recommendation from your previous dean
Three letters of recommendation from other people
US Medical Licensing Examination (USMLE)
CV
2.University of Pittsburgh: Department of Psychiatry of the University of Pittsburgh is one of the best departments in the field. It offers a wide range of psychiatry residency options in different areas of psychiatry, such as the General Psychiatry Residency, Child and Adolescent Residency, Forensic Psychotic Fellowship, and many others. For the General Psychiatry Residency, you need to fulfill the following requirements:
M.D. or D.O. degree
Sending your application through ERAS
Personal statement including info on your areas of interest
Transcript of medical school
Three letters of recommendation
3.Stanford University: One of the world's renowned universities has one of the best departments of psychiatry. For the General Residency in Psychiatry, you have to fulfill the following requirements:
Submission of ERAS application
Submission of your personal statement
Four letters of recommendation
Medical school transcripts
CV
Medical school performance evaluation
Your license copy USMLE
Photograph
How to Ensure That Your Recommendation Letter Is Fabulous
There are times when you might find yourself making some simple mistakes even after you have followed the steps outlined in the sample that we offer you. The only way you can ensure that your recommendation letter is impeccable is by asking someone, preferably a professional, to proofread it and check for any errors as well as correct them.

Magnificent Letters of Recommendation
Our service excels at writing letters of recommendation and personal statement for residency writing that make applicants noticed among others. The professional writers we hire have advanced degrees as well as extensive experience in dealing with papers like a letter of recommendation or psychiatry personal statement. They know what program directors would like to see and how to leave the most favorable impression. Advantages of using our service include:
Completely original LoRs tailored to your needs. Every letter of recommendation for psychiatry is out of the ordinary.
Complete customer satisfaction guarantee and on-time delivery of every letter we provide.
Rates that a student can easily afford.
24/7 helpful customer support.
Whether you need a psychiatry letter of recommendation sample or a letter written for you, contact us for a brilliant psychiatry LoR!