Basics of the Psychiatry Letter of Recommendation
Part of the application process for psychiatry will entail submitting letters of recommendation for residency. Requirements vary from program to program but most will want letters from both psychiatry rotations and non-psychiatry rotations. It is best to check with individual programs. In many cases when recommenders for applicants have busy schedules and a number of requests for letters of recommendation, they will allow students to provide an LoR for their signature.
The basic requirements for a recommendation letter for residency in psychiatry are shown here:
Introduction: States the reason for writing the letter and identifies the applicant it is recommending.
Body: The body should consist of one or two paragraphs discussing the student's qualifications for the psychiatry residency program. Residency LoR may include academic qualifications, clinical skills, personal qualities and anything else the recommender has observed in the applicant that would be relevant to their application to the residency program.
Conclusion: Summarizes the recommendation
Including the necessary information in this format will allow you to write an adequate to a good letter of recommendation for residency. However, every residency letter of recommendation a program receives will be good. To carry much weight a LoR must be great. Reviewing outstanding psychiatry residency letter of recommendations sample or internal medicine letter of recommendation sample can give you some idea of what makes a great LoR.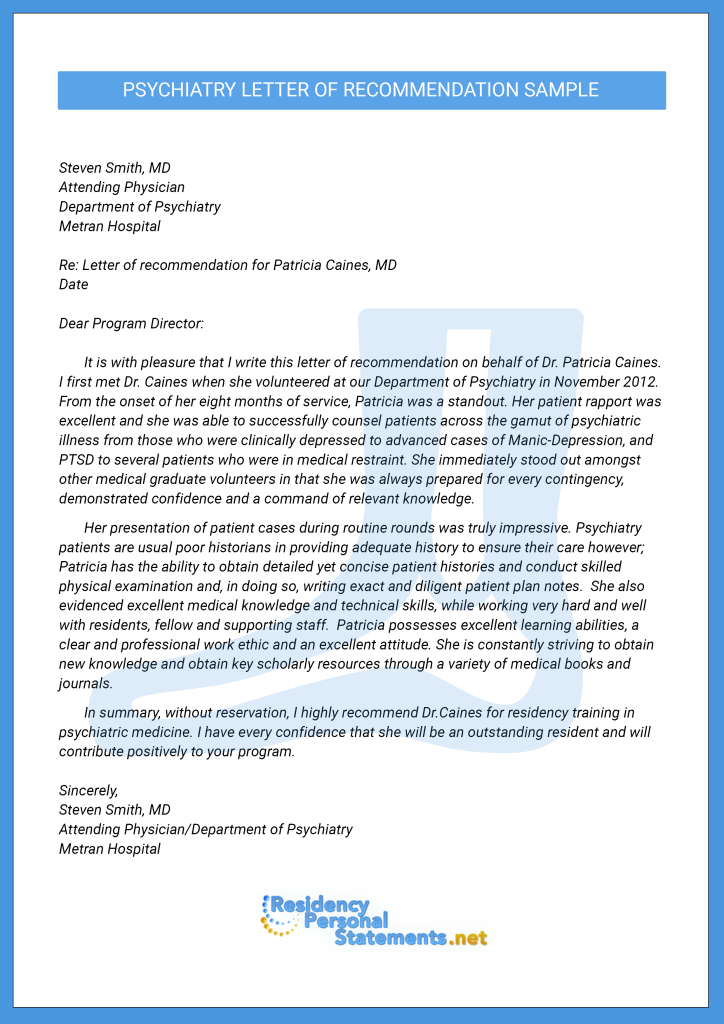 Review a Great Psychiatry Letter of Recommendation Sample
Every residency recommendation letter a psychiatry residency program receives is likely to be good so to stand out your letter must be better than good. Here are a few tips for writing an outstanding letter of recommendation:
The recommender should indicate the context in which they know the applicant and for how long they have known them. It is important that the reader gets the impression that the recommender knows the applicant well enough to understand them and make a valid recommendation.
When discussing an applicant's qualifications provide specific examples of how the applicant has displayed a particular skill or ability that the recommender has witnessed. Examples that are particularly relevant to psychiatry are best.
Include statistics such as "in the top 10 percent" and make comparisons to other students rather than just describing the applicant as excellent as it is interpreted differently in various programs. In many programs excellent is used to describe students who may be in the bottom half of the class while in others it means in the top 25 percent.
In the conclusion where the recommender summarizes their recommendation they should clearly state their strong endorsement of the applicant. A vague recommendation is more or less the same as the recommender has doubts about the applicant's abilities.
Use an outstanding psychiatry letter of recommendation sample as a guide. You shouldn't copy but you can get ideas for the type of things that work.
If you are unsure where to get a sample, our service can provide an outstanding psychiatry LoR sample of the highest quality for you to review.
Superior Psychiatry Letters of Recommendation
Our service excels in writing letters of recommendation and personal statement for residency that make applicants stand out from the other candidates. The professional writers we hire all have advanced degrees as well as extensive experience with papers as a letter of recommendation or personal statement psychiatry residency requires. They know what program directors like to see and how to make the most favorable impression. Advantages of using our service include:
Completely original LoRs tailored to the individual. Every letter of recommendation for psychiatry is unique to the individual applicant.
Guarantee of complete customer satisfaction and on-time delivery with every letter we provide.
Inexpensive rates that are easy for a student to afford
24/7 ready to help support representatives
Whether you need a psychiatry letter of recommendation sample or would like a letter written for you, contact us for an outstanding psychiatry LoR!