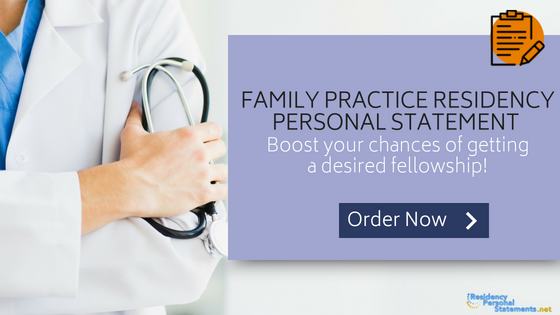 Entering the medical field as a family practice doctor is a very popular choice for many medical professionals looking to work with patients in an intimate setting. However, due to the popularity of this type of medical practice, it can be challenging for aspiring doctors to get into family practice residency programs.
With many applicants all vying for a select number of positions in these programs, students are faced with the challenge of getting their application to stand out among a sea of other qualified students. This is why admissions boards ask for a personal statement, so they can help separate applicants and choose the best individuals for the positions. This puts a great deal of pressure on the personal statement, which is why we offer professional services to help with writing residency application essay.
Family Practice Residency Personal Statements
When you apply to family practice residency programs you need to submit a personal statement that will show the admissions boards that you understand their program and that you truly believe you would be an ideal fit with them. The top family practice residency programs will expect for you to include information regarding their program and explain what characteristics you have that make you a match for their program.
They will also expect an interesting, personal and well-written document. While this may seem overwhelming, when you turn to our professional residency personal statement services, we can match you with a writer that will help you create a personal statement that has all these features.
Where Can You Apply for Family Practice Residency?
If you are going to apply for a residency in family medicine then you may as well apply to the best that you can find. The following are places that you can apply to with your personal statement IMG family residency:
How Should You Organize Your Family Practice Residency Personal Statement?
Your personal statement for family medicine residency must be written in an attention grabbing manner while providing the reader with all of the information that they will want to know about you. While every program is different and you should check their specific requirements; they will generally will want to see the following from your personal statement:
Why are you looking to family practice: what gained your interest in this field and how have you already taken steps in this area?
What will make you an excellent family doctor: explain the skills and other personal qualities that you possess that will help you excel in family practice.
What are you looking for in your residency experience? Explain the specific areas you are looking for from the program and also show what you will add to it.
What are your career ambitions: sketch out where you hope to take your career in the short and long term after your residency.

Family Practice Residency Personal Statements from Professional Writers
The personal statement can make the difference in the outcome of your family practice residency application, so you won't want to leave this document up to chance and accidentally submit an average personal statement. This is why we have a team of professional writers on our staff so you can get the best help possible in crafting your family practice residency personal statement. Whether you need some help editing or need an essay written entirely from scratch we have writers to help you get the job done, and who are the best in their field at creating this unique documents for medical professionals.
Choosing Our Family Practice Residency Service
When you use our professional resideny personal statement writing services you are getting a quality document, written by a professional, that also comes with a guarantee. This means you know you are getting quality work and that your essay will never include prohibited or plagiarized information.

What Guarantees Are There with Our Personal Statement Services?
We aim always to ensure your full satisfaction with the services that are provided through our experts. In fact, we guarantee them, if we cannot satisfy you with our residency personal statement and are unable to resolve that issue then we will refund the money that you have paid. We also guarantee to:
Deliver your personal statement to you on time
Provide error free writing with free proofreading on our services
Unique family practice personal statement with a free plagiarism report
Confidential help
Let us help you to get ranked with our effective professional help with writing your family practice residency personal statement.