The Importance of a Good Observership Letter
An observership is an opportunity for you to see a medical professional's everyday work in the chosen area. It is done by many international medical students who want to get used to how American hospitals and their staff operate and increasingly by American students themselves. There is a belief that completing an observership boosts your chances of being selected for a residency program, which is, in some ways, true. Therefore, writing a good observership application letter is vital if you want to get a place.
For international medical graduates (IMG) who want to become volunteers and observe clinical practice in other countries, an observership program might be organized by the medical association. Volunteers must take part in the observing process and dedicate their time and efforts to it.
With a proper observership letter, you can apply for:

Not sure you can cope with the writing task on your own? Our team can help you compose a winning letter for the chosen observership program. Just provide us with all the necessary details, and we'll start crafting your letter right away.
Using an Observership Letter Sample
Using a sample letter of recommendation for the medical observership, a sample cover letter, or an application letter for the program is an excellent way to see what should be covered and how. The problem is that many sites offer examples of different quality. You need to look at a sample letter for the observership application on a professional website, such as ours, where you know that you can trust what you are reading.
Read a sample letter of recommendation for the observership carefully and ask yourself whether it would persuade you to accept the person who wrote it.
Observership Letter Writing Tips
From the following observership application structure, you can see that the right application paper will have a clearly defined scheme and paragraphs that make the writing strong. An observership letter must consist of such components:
Introduction part
Paragraph describing your choice
Paragraph stating what makes you the best candidate
Most prominent achievements of yours
Conclusion and mentioning other documents you've attached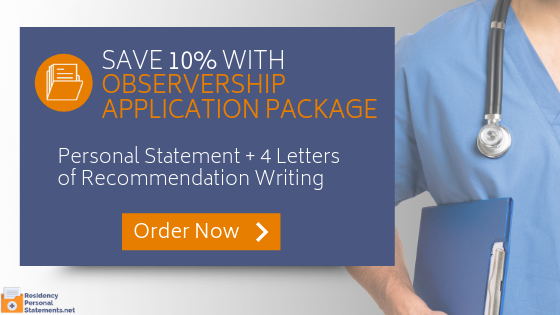 Observer letter writing mistakes to spot and get rid of!
To make your observer application attractive and right, talking not only of the structure but also content, you should not write certain things:
Don't use the word 'observership' in a letter. Make it look like a unique document, not a clichéd one.
Don't spoil your letter with excuses, underachievements, and questionable references. Even if you do not have weighty accomplishments to mention, don't include negative info.
Don't exaggerate about anything, especially your skills and knowledge.
Don't make your letter too extensive and don't provide too many files the reader will have to check.
Adapting Your Observership Letter Sample
No sample letter for the observership application or cover letter for the observership can be used exactly as you see it online. For beginners: this is regarded as plagiarism. Secondly, a sample letter is highly unlikely to suit the program that you are applying for and, of course, reflect you yourself. A letter needs to be very personal and state what you expect of the program as well as why you want to do it. You have to look at how a sample is written and what it is trying to achieve and then write your own letter, using what you have learned from the example.
Our Observership Letter of Recommendation Writing Service
If you want to ensure that you win your place in your chosen observership program, why not have your letter professionally written? We employ the best residency and observership application writers. Each of them holds a higher degree and writes in those areas in which they are the most qualified. They have the experience of tailoring letters to specific observerships. All orders are always delivered on time, and there is a full money-back guarantee.
Your letter will be original and plagiarism-free. Don't hesitate to contact us for observership application help.
Acceptance letter for observership.

Once you have received an offer of the observership position, it means that your professionalism has been taken into account. As such, it is crucial that you send a superb letter of acceptance to thank the committee for their time and for selecting you. Not doing so could affect your chance of getting positive recommendation letters in the future.

Observership letter of recommendation.

To get into the observership program you dream of, it is necessary to have influential people who can vouch for your achievements in the field as well as for your personal qualities. A letter of recommendation is of utmost importance, as it is composed by a professional who knows you well and describes why you would be a good fit for the program.

Medical observership cover letter.

When applying for a medical observership, you must be able to list down the qualities and experience you can contribute to the program. However, in this kind of letter, it is imperative that you emphasize your motivation for participating in the medical observership program as well as convince the admission board of your sincerity and dedication to the medical field.
So, if you like our observership letter sample and want a perfect letter for your application, just contact our experts today!