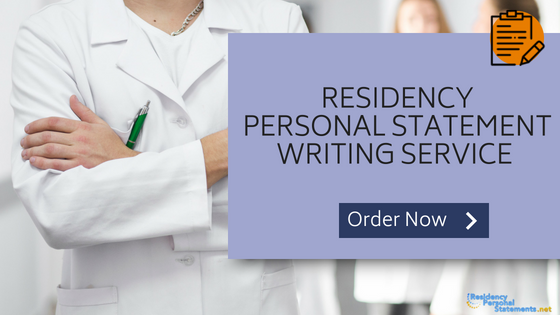 Can Our Family Medicine Personal Statement Sample Help You?
According to the figures issued by the NRMP Match over 11,000 of those graduates that applied for a residency were not matched in the last year. So if you want to be sure of gaining a place over the competition you will need to ensure that your application through ERAS makes you stand out. A good residency personal statement sample can show you just how yours needs to be written if you are to be successfully chosen.
Your personal statement will often be one of the most important parts of your application. After all, by this stage in your education, you will have proved yourself academically and there will be little else to choose between you and other applicants. So a well written personal statement or letter of intent can make a significant difference to your application if you can make yourself stand out.
Writing an outstanding personal statement or even a letter of recommendation if far from simple which is why many applicants will turn to our services for support. We can provide you with everything that you may need from an ERAS cost calculator through to a psychiatry residency personal statement sample. All of our samples are written by highly experienced experts that fully understand just what the admissions committee will be looking for.
Residency Personal Statement Sample
"We IMGs have saved lives and we strive to do that whenever we get the chance and now it's our opportunity…. We will not sit and watch we can make a difference!" These were among the words I said on September 4th of 2017, few days after hurricane Harvey landfall on Texas, in front of cameras that took my message to thousands of online viewers.
Being an international medical graduate (IMG), I know firsthand the challenges that IMGs go through in America. Yet, I believed in the untapped potential of such trained group of professionals and how they can be of an immense help to the communities we live in.
All along, I was determined to create an entity that enables IMGs to help each other and the community. While I was studying and slowly gestating the idea of creating a legitimate non-profit organization, hurricane Harvey hit Texas. The storm started flooding streets and residences, putting countless lives at danger. Being a refugee from Iraq, I have lived through war and had to flee my country so I know how it feels to be an evacuee and how the people of Texas must have felt. Watching the magnitude of the devastation, I decided right there and then that it was a critical time to launch my IMG non-profit with the initial great cause of responding to hurricane Harvey.
Having been a medical volunteer at a Red Cross shelter, I was short on time and I needed to share my message rapidly and effectively. I knew that the best way to reach as many of my peers would be through a video. With almost all studios in town flooded, a videographer neighbor decided to help. With no sleep and only few minutes of rehearsal I stood in front of the cameras, launching a new non-profit to help in disaster relief and calling all IMGs in Texas to be involved. At that moment, IMGs For Texas was born. In that video, I made our first call for action; a blood drive within 48 hours responding to the flooding-caused blood shortage crisis across Texas. To my surprise, the 1 minute video was shared online and became viral across the nation and the world in just 24 hours. 48 hours later, we managed to transport and accommodate 35 IMG blood donors in one day at the MD Anderson Cancer Center.
While managing this new effort, I was taking volunteer shifts at the G.R.B shelter housing 10,600 residents. I felt privileged to help others and how my medical skills and knowledge became valuable to the physicians supervising me. I had felt what I believed how IMGs can help the community all along. It was a matter of time before I launched another mission for IMGs for Texas, this time recruiting IMGs as medical shelter volunteers. A massive undertaking, but it was the core of what I created IMGs for Texas for. As such, I announced the NRG Shelter Medical Volunteering Program. By the next morning, we had our first IMG volunteer helping patients. This was a time of disaster where one third of Houston was underwater and the shelter had 2600 residents. The compassion we, IMGs, and all other volunteers have showed was phenomenal. By the time the shelter closed, IMGs for Texas have helped 1020 patients.
The reason and the drive behind my effort was to provide better care to patients during a difficult time, and it is the same reason that now drives me to pursue emergency medicine, to help patients survive through their disruptive medical issues. I am fortunate to have the conviction that every challenge is a learning opportunity and I thrive in high-stress and challenging situations. The balance of urgency and compassion in dealing with emergency cases makes it a fulfilling aspect of my career and was what I enjoyed the most during my practice as a resident in Iraq and during my clinical experience in the U.S. My hurricane Harvey experience has taught me persistence, patience, and compassion, proved my ability to improvise and take action, and has strengthened my desire to practice medicine and touch patients' lives. I want to join your residency program to learn more about handling medical emergencies and sharpen my clinical skills to become the clinician I aspire to be. I plan to become a successful physician who can be at the forefront of emergency medicine serving patients in my community and to build on my vision of uniting IMGs to assist with addressing healthcare issues in underserved communities.
We Can Support Your Residency Application
From an excellent sample letter of recommendation for residency to an internal medicine personal statement sample, our examples are some of the best that you will find online. We provide you all of the support and guidance that you may need for making your residency application. Our experts are medical graduates that have been through the whole process and fully understand what is expected of you.
They work with you to personalize your application and will help you to deliver an outstanding application that is going to make you stand out. With our support, you will always have your error free and unique personal statement finished on time. With amazing attention to detail and a guarantee of your full satisfaction, our services are the best to choose.
Use our residency personal statement sample to guide your writing or use our professional and highly effective services to give your ERAS application a real edge.