Purpose of the Medical School Performance Evaluation
The Medical Student Performance Evaluation (MSPE) is the formal medical school performance evaluation for students that is submitted as part of the residency application package. Its purpose is to provide an objective evaluation of your academic performance and professional attributes during your time in medical school. Residency programs use the MSPE as one of the criteria for selecting which applicants will be interviewed for possible acceptance into their program. As it is an objective evaluation, the MSPE medical school faculty write may contain negative information about your performance as well as positive information.
However, ultimately it is you who has control over much of what goes into your medical school performance evaluation, and not the faculty member who wrote it. They are required to write the facts of your medical school performance history.
Improve Your Medical School Performance Evaluation
From the first day of medical school, you should already be thinking about the MSPE. There are six sections that make up the Medical Student Performance Evaluation. One of the sections, the Unique Characteristics section, is a summary of awards and achievements you have received, leadership positions you have held, research you have done, community service you have performed and other similar type activities you have been involved with during your time in medical school. The Unique Characteristics statement is similar to a residency personal statement or letter of recommendation, and highlights accomplishments and activities during your time in medical school only and not before. If you have achieved a great deal while in medical school and been involved in many different activities, then the Unique Characteristic statement will make you stand out when residency programs are reviewing applications. A great Unique Characteristics statement can offset aspects of your MSPE that may be a little lower than you would want. To help boost your MSPES consider:
Getting involved in things like volunteer work, that contribute in a positive way to the community
Become a tutor or teachers assistant
Invite a guest speaker to talk to students about selected medical topics
Get involved in research if possible or write a paper
These are activities that you need to get involved with from the first year of medical school for them to have a positive influence on your medical school performance evaluation. If you wait until the third year, then you have waited too long.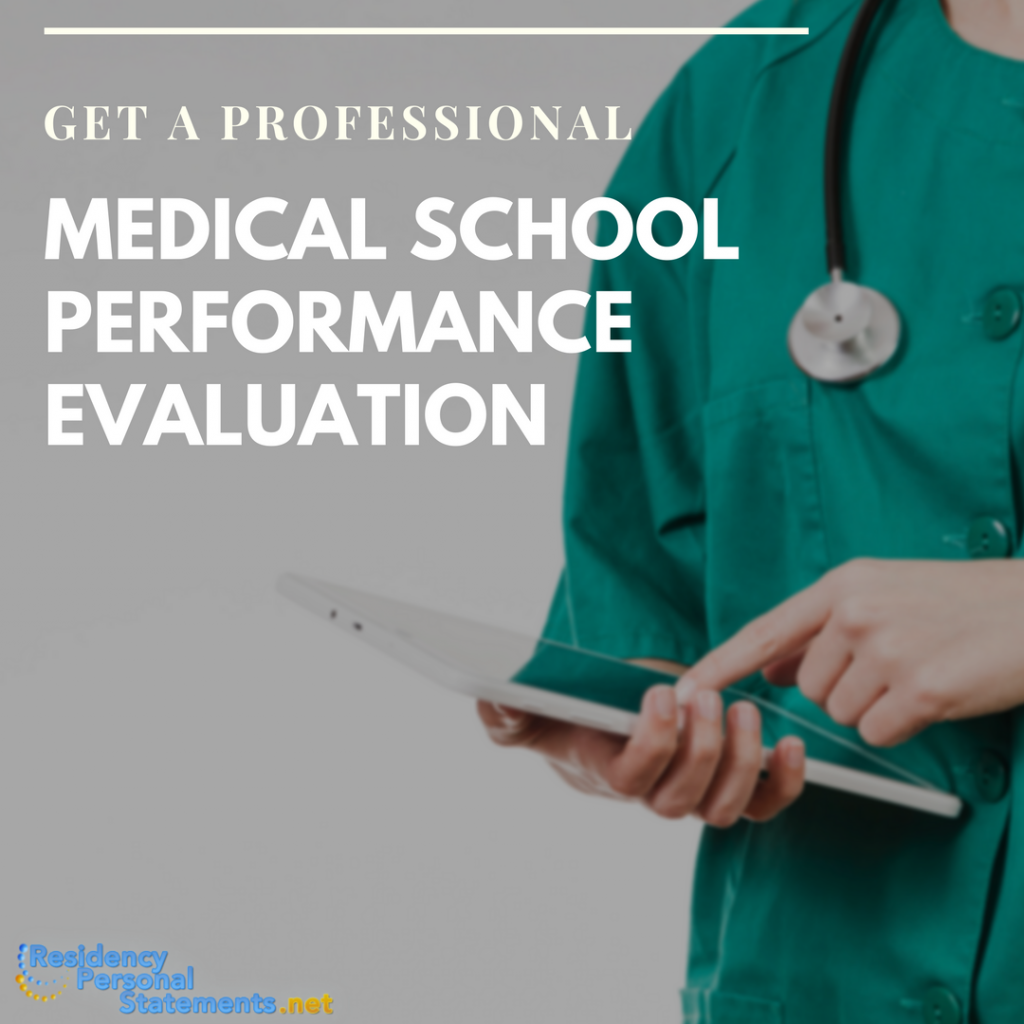 Other MSPE Considerations
Having plenty of achievements and activities to include in your Unique Characteristic statement is probably the best way to improve your MSPE. Most medical schools allow students to review their MSPE before they submit it. When presented with this opportunity to review your medical school performance evaluation grab it and look for the following:
Look for errors and mistakes in the facts presented
Ensure that all good evaluations, special honors, awards, and activities have been mentioned and that nothing that benefits your image has been omitted
Bring any problems or discrepancies in the letter to the Dean's (or another appropriate faculty member) attention as soon as possible so that corrections can be made.
Stay aware of when the MSPE is supposed to be sent to ERAS. Makes sure that the MSPE is submitted in plenty of time.
The performance review wording used in the MSPE is something that you should also pay close attention to. For several years there has been an ongoing effort to make the MSPE more standardized across different schools. This is due to the way many schools word their evaluations and the way they define some words. Examples of words to watch out for include:
Good: Having the word "good" used in your evaluation is definitely not good. The lowest evaluation that many schools give is that of good. If your performance is rated good, this means that you have a below average performance
Excellent: Depending on the school, an evaluation of excellent can still place you in the bottom half of your class
Organized: Saying somebody is organized in their MSPE can be taken to mean that they are obsessive-compulsive
MSPE wording such as that mentioned is a result of schools wanting to put their student's evaluation in the best terms possible. However, residency programs are well aware of this and interpret wording based on past experiences. If you have questions regarding the performance review wording in your MSPE make sure to discuss it with the appropriate faculty member if you feel it is inaccurate.
The Medical Student Performance Evaluation or MSPE is the same as a Dean's Letter wherein the student's overall performance prior to graduate school is written along with the school's evaluation.
It is usually the Office of the Student Affairs that handle writing the Dean's Letter on behalf of the student based on their input. If you are considering applying for a residency program, you should make sure that you secure your MSPE for submission.
What Is the Medical Student Performance Evaluation?
The Medical Student Performance Evaluation (MSPE), formerly known as the dean's letter, is an important part of the medical residency application package. It is essentially a summary of a student's academic awards, achievements, work experiences and extracurricular activities during medical school. Every school has a standard format they use, in most cases based on the guidelines recommended by the American Association of Medical Colleges. The MSPE evaluates both the professional attributes of a student as well as their academic performance. Residency programs use this evaluation of student performance as one of the criteria for selecting which applicants they accept into their program.
What Is Included in the Medical Student Performance Evaluation?
The Medical Student Performance Evaluation is made up of several parts. The following are the six sections of the MSPE and the information that should be included in each section.
Identifying Information: Student's legal name, the name of the medical school and its location.
Unique Characteristics: A narrative residency personal statement that contains information about a student such as honors and awards received in medical school, leadership positions held, research done during medical school, papers published, community service activities, involvement in student interest groups and hobbies. Information should be only from the student's time in medical school. If a student encountered any significant challenges or hardship during medical school this information may also be included.
Academic History: This section includes:
Date of the student's initial matriculation in medical school and date of expected graduation
An explanation of any extensions, gaps, or breaks in the student's educational program.
Information about the student's enrollment in dual, joint or combined degree programs and expected graduation date.
Information of coursework the student was required to repeat during medical school.
Information about any adverse action imposed on a student by the medical school
Academic Progress: Information about the student's academic performance and professional attributes provided in a narrative style including:
Information regarding the student's overall performance in the preclinical/basic science curriculum.
Information regarding the student's overall performance on each core clinical clerkship and elective rotation completed, with a focus on summative comments by clerkship/elective directors.
Information about the student's level of initiative and enthusiasm in all curricular components.
An assessment of the student's compatibility with faculty members, peers, other members of the healthcare team, and patients during all curricular components.
Summary: A summative assessment of the students' performance in medical school, relative to their peers, based upon the school's evaluation system including information about any school-specific categories used to differentiate student performance levels
Appendices: Collection of graphic representations of the student's performance in different areas relative to their peers.
How Important Is the Medical Student Performance Evaluation?
In recent years the MSPE has played a bigger role in the residency programs application process. It is one of the five most important factors residency programs use when considering a student's application. This is due in large part to efforts made to make the MSPE more objective. The weight given to the Medical Student Performance Evaluation varies from program to program. Some of the reasons you should be concerned with the MSPE include:
The MSPE is an objective recitation of facts. Since it is a medical student evaluation and not intended as a Letter of Recommendation, it can contain negative aspects regarding your performance as well as positive.
The MSPE compares your performance relative to that of your peers. Residency programs are less likely to consider applicants who did poorly compared others in their medical school.
The MSPE isn't just for application to residency programs. When applying for fellowship programs and employment after completing your residency training, it is often necessary to provide your MSPE
Efforts to ensure the consistency of the MSPE as an accurate assessment of a student's medical school performance across all medical schools are showing results. This has resulted in an upward trend in the number of programs that consider the MSPE an important factor in the residency selection process.
If you are still stuck with the medical school performance evaluation, perhaps our team might help you!