How to Write a Podiatry Personal Statement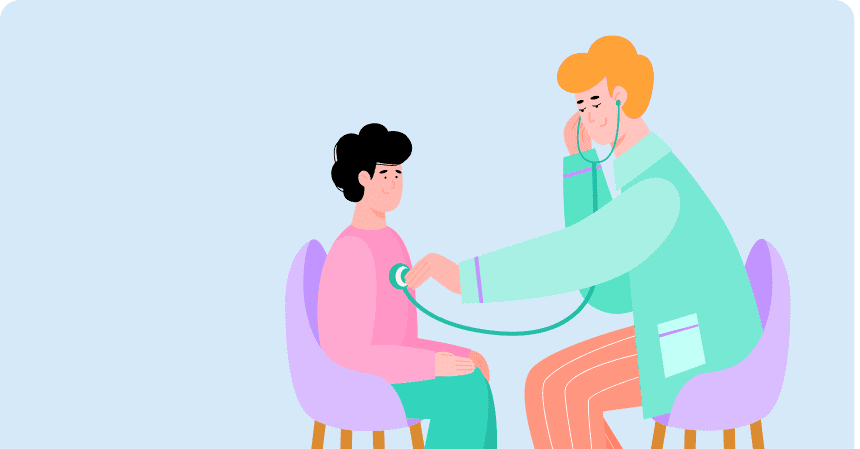 Winning Podiatry Personal Statement for Your Residency Application
Podiatry is now becoming one of the popular choices for doctorate training. The practice deals with foot disorders and ailments. A professional who practices podiatry has graduated with a doctor of podiatric medicine degree. They have the license to do medical evaluations and surgeries involving the foot.
If you have decided to take this path, you should keep in mind that one of the most important parts of your application is your podiatry school personal statement. Out of hundreds of applications that the evaluators must wade through, it cannot be overemphasized that your podiatry personal statement may be your key to winning a place in the podiatry residency training. That's why it may be a good idea to get some help with a personal statement for residency from a professional service.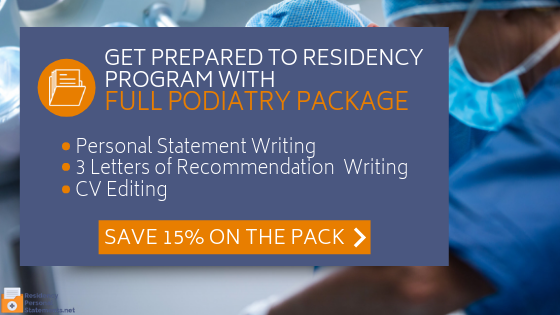 Podiatry School Personal Statement Writing Tips
The following are some tips you might want to note down for writing your personal essay:
Talk about how the practice interests you. Some practitioners say that podiatry is not as exciting as other medical professions, but it is every bit as fulfilling. However, what in podiatry has made you choose that particular career? You may include an anecdote, but do not exaggerate. You should avoid clichés too. For instance, your mom's ingrown toenail and her recent surgery may not necessarily be a good source of inspiration.
Maintain a professional tone. Stick to the facts when writing your podiatry personal statement or any else like a geriatric medicine fellowship personal statement. Avoid boring, flowery language when trying to convince the panel that you are interested in the field. Also, refrain from using excessive adjectives and try to write in plain language. Also, keep the usage of thesauri minimal. Although you may want to impress your reader with your rich vocabulary, you don't want your podiatry personal statement to sound artificial.
Express your dedication. Highlight your most favorable traits and relate this to the podiatry practice. With the risk of sounding too enthusiastic, describe how the practice excites you and how treating foot disorders gives you the fulfillment that a professional hopes for. Make the panel feel your sincerity and desire to be accepted to their training institution.
Relate your career plans. The admission committee will want to know how you have planned out your career as a podiatrist. What do you think would be your greatest achievement while in training? How do you think the institution would contribute to achieving your professional goals? While the residency panel will want an applicant who is free-spirited and dedicated, they will also want a resident who has a concrete plan for their future and career.
Check and recheck. Most applicants forget this part, and thus, make small but critical grammar and spelling mistakes. Do not be overconfident about your work. Once you have checked it yourself, you can ask someone you trust to look at your statement and give their comments on your piece of writing. You can also browse through some podiatry personal statement examples to check if you have written your essay accordingly. What is good enough for you may not be as good enough for your audience, so ask for assistance.
Get Inspired by Podiatry Personal Statement Examples

What Should Your Personal Statement Contain?
Knowing exactly what to write in your statement can be tough. Often it is best to brainstorm some answers to the following questions and any others:
What is your first memory of medicine? How did you react?
Do you know anyone working in this field? Is there anything you particularly admire about them?
Why do you want to be a podiatrist, not something else?
Do you have a role model? Why are they your role model, and what have you learned from them?
What is your most memorable medicine-related experience?
Why should you be accepted to this program?
What three things make you the most different from everyone else?
Why are you interested in medicine?
Do you possess any academic skills or other personal strengths that are relevant?
Have you received any honors or awards? Are you a scholarship recipient?
Have you done any voluntary work within your community?
What other extracurricular activities have you participated in?
Do you have any relevant work experience?
Have you participated in any research?
What makes you a good choice for this program?
What are your career goals for the next 5, 10, 15 years?
Have you experienced anything unusual or meaningful in your life?

The answers to these questions and any other information that you can come up with will help you write your personal statement. It may even provide you with the overall theme to tell your story effectively and get their attention.
These are just a few basic points to consider when writing your residency personal statement. Remember that you should start writing early and do not rush your essay out. Most importantly, be honest and genuine!
Podiatry personal statement writing prices start at $65.47. Don't miss your chance!
Get Help
You May Also Like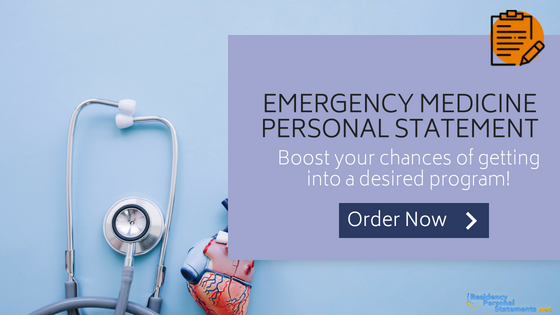 October 04, 2017
1572
4072
What Is Emergency Medicine? Emergency medicine, for others they may know or call it an accident and emergency medicine, is generally involves care for unscheduled or undifferentiated patients with injuries, illnesses that require immediate medical attention....
Read More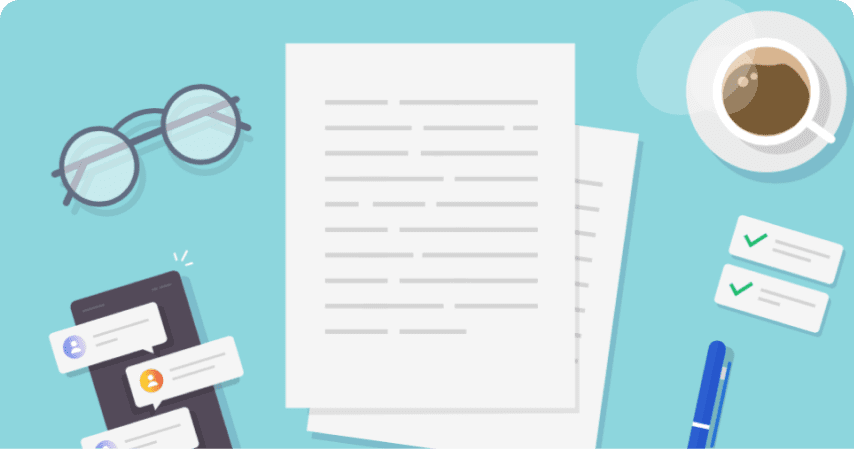 Surgical critical care fellowship as well as a neuro oncology fellowship offers its fellows an ideal venue where they can experience clinical duties and research for 12 months under the tutelage of expert medical specialists. To get into the program, you...
Read More